About the PT-109 Elco 80' Motor Torpedo Boat:
The PT-109 was a Motor Torpedo boat last commanded by Lieutenant, Junior Grade John F. Kennedy in the Pacific Theater during WWII. PT-109 belonged to the PT-103 class, hundreds of which were completed between 1942 and 1945. It was transported from the Norfolk Navy Yard to the South Pacific in August 1942, and arrived at the Soloman Islands in late 1942. PT-109 participated in combat operations around Guadalcanal between December 1942 and February 1943, when the Japanese withdrew from the island.
PT-109 participated in many night time patrols against the "Tokyo Express," which was the name given to the naval vessels that brought supplies to the Japanese troops on Guadalcanal. On one such patrol, around 2am on August 2, 1943, PT-109 was motionless in the water, with idling engines to avoid detection of her wake by Japanese aircraft. Out of the nearly pitch black darkness suddenly appeared the looming bow of the Japanese destroyer Amagiri. Unable to gain enough speed to avoid collision, PT-109 was struck midship, sawing the smaller PT-boat in two and rupturing the fuel tanks containing hundreds of gallons of highly-flammable 100 octane aviation gasoline. The collision resulted in a spectacular explosion and fireball prompting nearby witnesses to believe the entire crew of PT-109 was lost. All nearby American forces withdrew from the area without searching for survivors.
Miraculously, eleven of the thirteen crewmen survived the explosion, although several were severely wounded. Trapped deep inside enemy territory, PT-109's skipper, LTJG John F. Kennedy, faced the nearly impossible task of saving his crew from both the enemy and the elements. For several days, the survivors hid from the Japanese by day on nearby deserted island, which Kennedy foraged for supplies and searched for friendly forces by night. After six days Kennedy was able to send word of PT-109's survivors to his home base, via message carved into a coconut husk. This was carried by a pair of Solomon Island native scouts, who paddled a dugout canoe some forty miles to the American base. This would become one of the most famous survival tales of World War II and helped propel John F Kennedy into the national spotlight.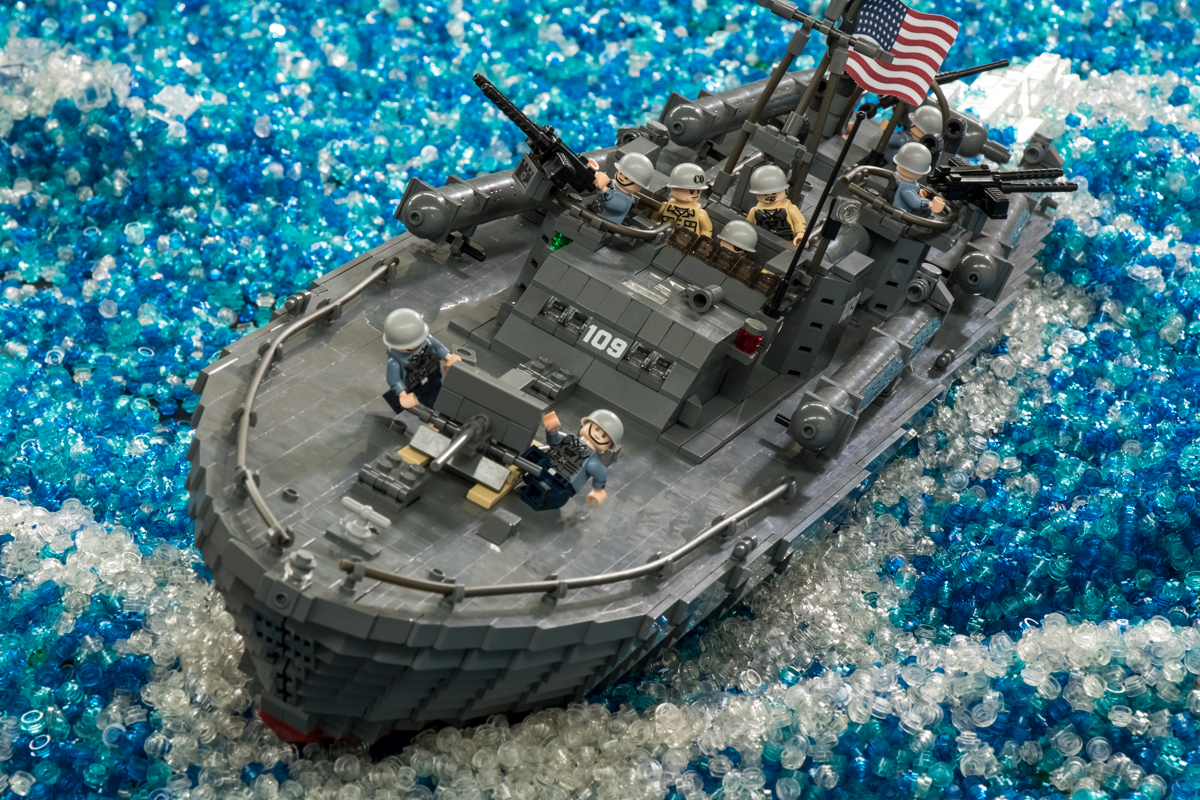 Specifications:
Displacement: 56 tons (full load)
Length: 80 ft overall
Propulsion: Three 12-cylinder Packard gasoline engines 1500 hp each; three shafts
Speed: 41 knots (47 mph)
Endurance: 12 hours (6 hours at top speed)
Complement: 3 officers, 14 enlisted men
Armament: 4 x 21-inch torpedo tubes, 20 mm cannon aft, 4 x M2 .50cal .5" (12.7 mm) machine guns (2x2), 37 mm anti-tank gun mounted forward
Armor: gunboat deck house protected against rifle bullets and splinter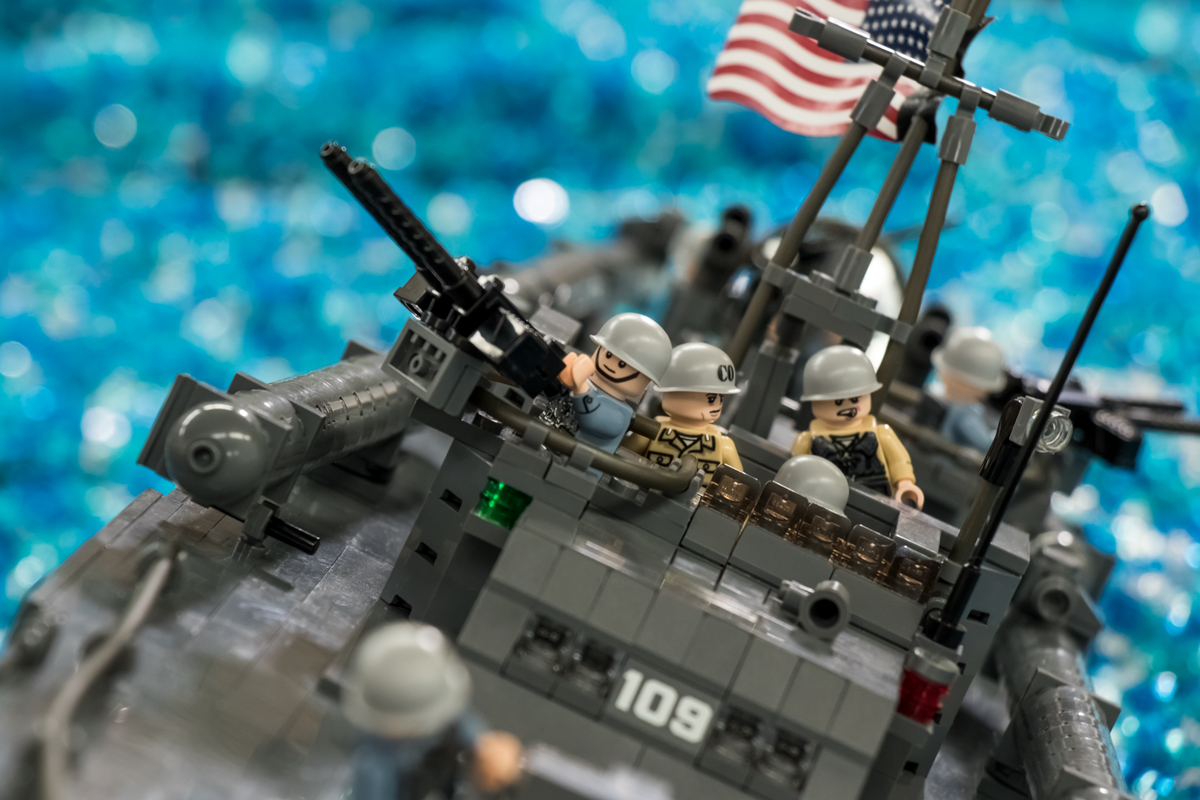 Additional information about this Brickmania custom building kit:
The PT-109 Elco 80' Motor Torpedo Boat comes with the following features:
Faithfully built following historic plans of the actual PT-109 in 1/35 scale
Removable hatches and deck reveal fully detailed interior compartments
Thirteen custom printed mini figures, including LTJG John F Kennedy
Includes display stand with PT-109 data plate
Numerous custom printed elements included throughout the model
Never-before-released M2 aircraft machine guns hand-crafted by BrickArms' Will Chapman
1/35 scale to match other Brickmania models
Includes 4,125 genuine new-condition LEGO® bricks and BrickArms® elements
Master Skill Level (8-10 years of experience with LEGO is recommended)