About the Land Rover XD - WMIK

The Land Rover XD WMIK ("Weapons Mount Installation Kit") is a reconnaissance and close fire support vehicle used by the British and Dutch armed forces. It is based on the Land Rover Wolf, which is a heavy-duty military variant of the Land Rover Defender series of vehicles. The WMIK is a distant but direct descendant of the specialized Jeeps used by the SAS (Special Air Service) and LRDG (Long Range Desert Group) during World War II. The WMIK is typically armed with a .50 Caliber M2HB and 7.62mm machine gun and carries a crew of three. Variants of the WMIK may also mount a 40mm grenade launcher or Milan anti-tank missile system. WMIKs first saw military action during Operation Desert Storm and also served with peace-keeping troops in the Balkans. Post September 11, the WMIKs were also deployed during Operation Iraqi Freedom and in Afghanistan. The relative small size of the WMIK has advantages over larger vehicles, particularly in narrow urban streets. The disadvantage being limited armor protection for the crew against IEDs, such as those placed by Taliban fighters.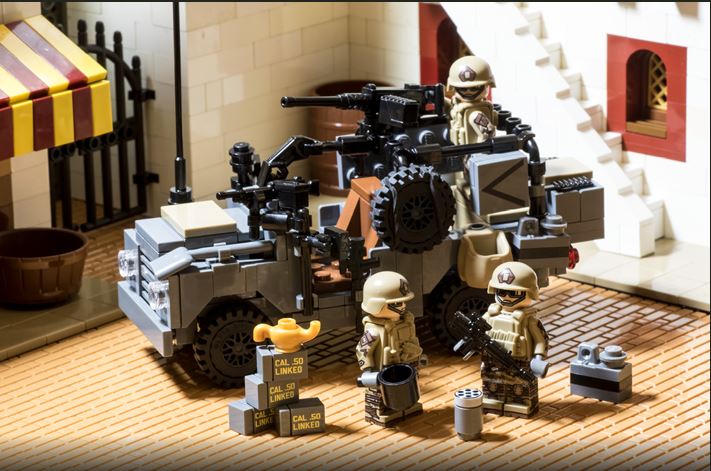 Additional information about this Brickmania custom building kit:
Brickmania's Land Rover XD WMIK:
Three custom printed British Special Forces minifigures
Two exclusive over-molded prototype L-85 Rifles from BrickArms
M2HB and Combat LMG from BrickArms
Six custom printed ammunition boxes, identification panels and field stove
Over-all color is desert tan
245 genuine LEGO® and BrickArms® elements
Brickmania model kits are made of new-condition LEGO bricks, plus compatible accessories from BrickArms and Brickmania where appropriate. This model comes disassembled and includes completed printed building instructions and comes packaged in a sealed box. This is a limited edition kit and production may be discontinued at any time.