Product Description
The engine hoist (also called an engine crane), while a specialized tool, is a common workhorse in many shops, used to remove or install gasoline or diesel engines in small and crowded vehicle engine compartments. The hoist uses a heavy cantilevered support structure to hold the engine in mid-air so that the mechanic can carefully connect or disconnect fragile hoses and wires on the engine to the frame of the vehicle. Most engine cranes are equipped with a telescopic boom which can be extended to reach engine blocks located further into the engine compartment. At the end of the boom there is a grab hook where lifting chains, slings or a load leveler can be attached for lifting purposes.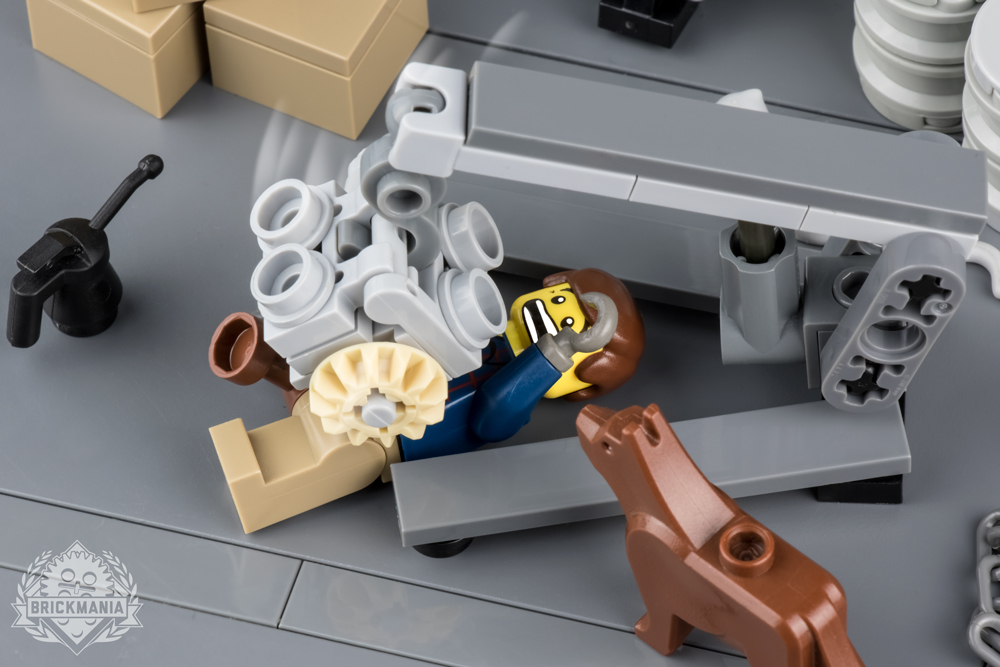 Additional information about this Brickmania custom Lego® kit:
The Engine Hoist kit has the following features
Hoist details include simulated engine build
Movable boom
Oil can included
Perfect detail piece for any 20th century or later builds.
1/35 scale to match other Brickmania models
Over-all color is a mix of dark gray and light grey.
Includes 33 genuine new-condition LEGO® elements
Sophomore Skill Level (2-4 years experience with LEGO is recommended)
All Brickmania model kits are made of new-condition LEGO bricks. This model comes disassembled and includes professionally printed building instructions and comes packaged in a sealed box. This is a limited edition kit and production may be discontinued at any time.
This set contains small parts and is not intended for childern under 3 years