About the F-100 Super Sabre:
The North American F-100 Super Sabre was an American supersonic jet fighter aircraft that served with the United States Air Force from 1954 to 1971 and the Air National Guard until 1979. It was the first USAF fighter capable of supersonic speed in level flight. The F-100 was adapted as a fighter bomber, and supplanted by the Mach Two Class F-105 Thunderchief for strike missions over North Vietnam.
The F-100A officially entered USAF service on September 27, 1954 with the 479th Fighter Wing at George AFB, California. By November of the same year, the F-100A suffered six major accidents due to flight instability, structural failures, and hydraulic system failures prompting the air force to ground the entire fleet until February 1955. The F-100 Super Sabre is known for holding numerous achievements including being the first operational aircraft in the USAF inventory capable of exceeding the speed of sound in level flight, and being the first-ever aircraft to successfully perform buddy refueling.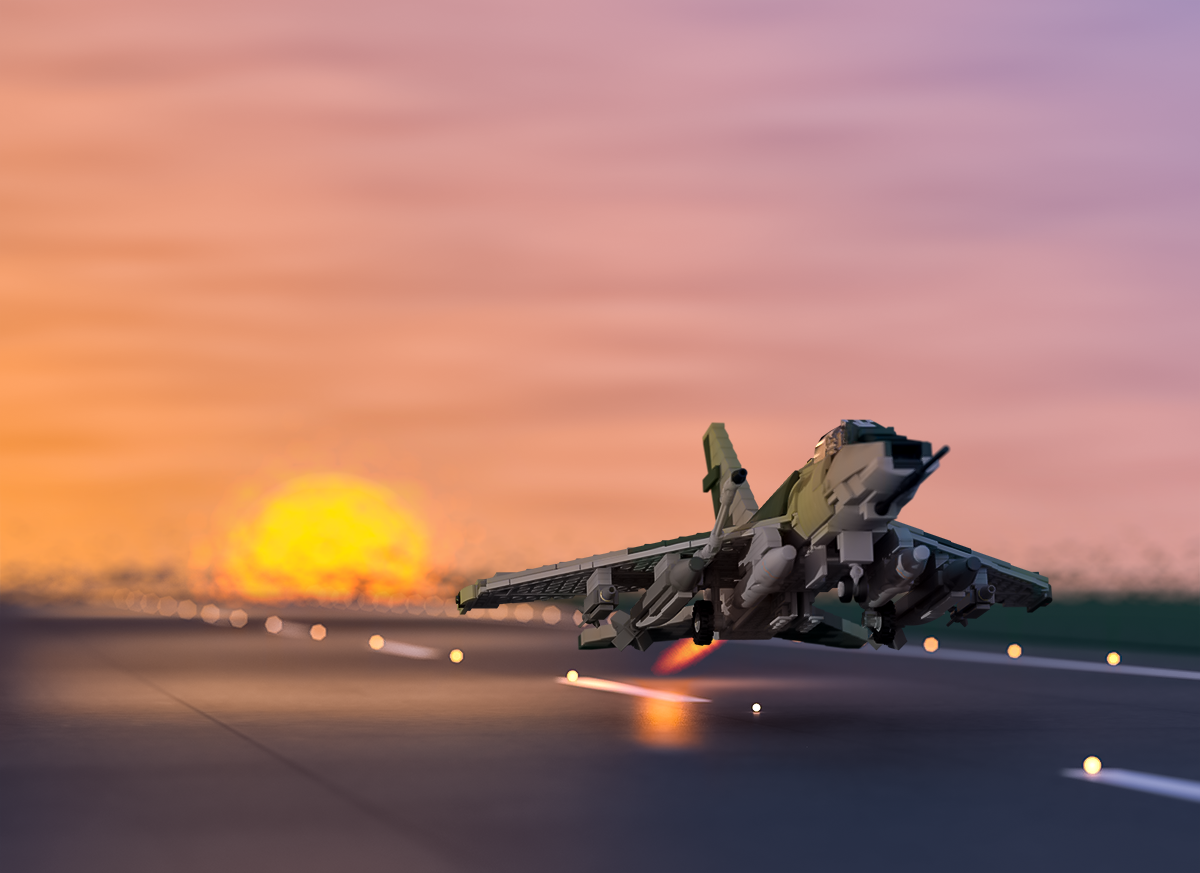 Specifications:
Crew: 1
Length: 50 ft (15.2 m)
Loaded weight: 28,847 lb (13,085 kg)
Max takeoff weight: 34,832 lb (15,800)
Powerplant: 1 x Pratt & Whitney J57 P-21/21A turbojet
Maximum speed: 864 mph (1,390 km/h, Mach 1.3)
Range: 1,995 mi (3,210 km)
Guns: 4x 20 mm Pontiac M39A1 revolver cannon + 4x AIM-9 Sidewinder missiles
Bombs: 7,040 lb of weapons (conventional bombs) or Mark 7 nuclear bomb, Mk 28, 38, 43 nuclear bombs
Avionics: Minneapolis-Honeywell MB-3 automatic pilot, AN/AJB-1B low-altitude bombing system, AN/APR-26 rearward radar warning
Additional information about this Brickmania custom building kit:
The F-100 Super Sabre comes with the following features:
Includes custom-printed Pilot designed by Lando
Detailed and decorated interior for cockpit
Moveable tail wings & retractable landing gear
Includes full payload and stand
1/35 scale to match other Brickmania models
Includes 1127 genuine new-condition LEGO® bricks and BrickArms® elements
Designed by Cody Osell
Intermediate Skill Level (3-5 years of experience with LEGO is recommended)
All Brickmania model kits are made of new-condition LEGO bricks. This model comes disassembled and includes complete printed building instructions and comes packaged in a sealed box. This is a limited edition kit and production may be discontinued at any time.
For this Set additional shipping costs will apply.
For more information please see our Shipping Conditions.
This set contains small parts and is not intended for childern under 3 year