About the Messerschmitt Me-262 Swallow:
The Messerschmitt Me 262 was the world's first operational jet-powered fighter aircraft. Design work started before WWII began, but problems with engines, metallurgy and top-level interference kept the aircraft from operational status with the Luftwaffe until mid-1944. The Me 262 was faster and more heavily armed than the Allied fighter, including the British jet-powered Gloster Meteor. One of the most advanced aviation designs in operational use during WWII, the Me 262's roles included light bomber, reconnaissance and experimental night fighter versions. Me 262 pilots claimed a total of 542 Allied kills, although higher claims are sometimes made.
The Allies countered its potential effectiveness in the air by attacking the aircraft on the ground and during takeoff and landing While German use of the aircraft ended with the close of WWII, a small number were operated by the Czechoslovak Air Force until 1951. Captured Me 262s were studied and flight tested by the major powers, and ultimately influenced the designs of a number of post-war aircraft such as the North American F-86 Sabre and Boeing B-47 Stratojet. A number of aircraft have survived on static display in museums, and there have also been several privately built flying reproductions that use the modern J-85 jet engine.
Figure artwork includes:
"Channel" Jacket & Trousers
Electrically Heated Flying Boots
Yellow Luftwaffe Armband
Walther PPK/Mauser HSC Holster
B-Uhr Watch
Specifications:
Number built: 1,430
Crew: 1
Loaded weight: 14,272 lb
Max takeoff weight: 15,720 lb
Powerplant: 2x Junkers Jumo 004 B-1 Turbojets, 8.8 kN (1,980 lbf) each
Max speed: 559 mph
Range: 652 mi
Armament:

Guns: 4x 30mm MK 108 cannon (A-2a: two cannon)
Rockets: 24 x 55mm R4M rockets
Bombs: 2x 550 lb bombs or 2x 1,100 bombs (A-2a variant)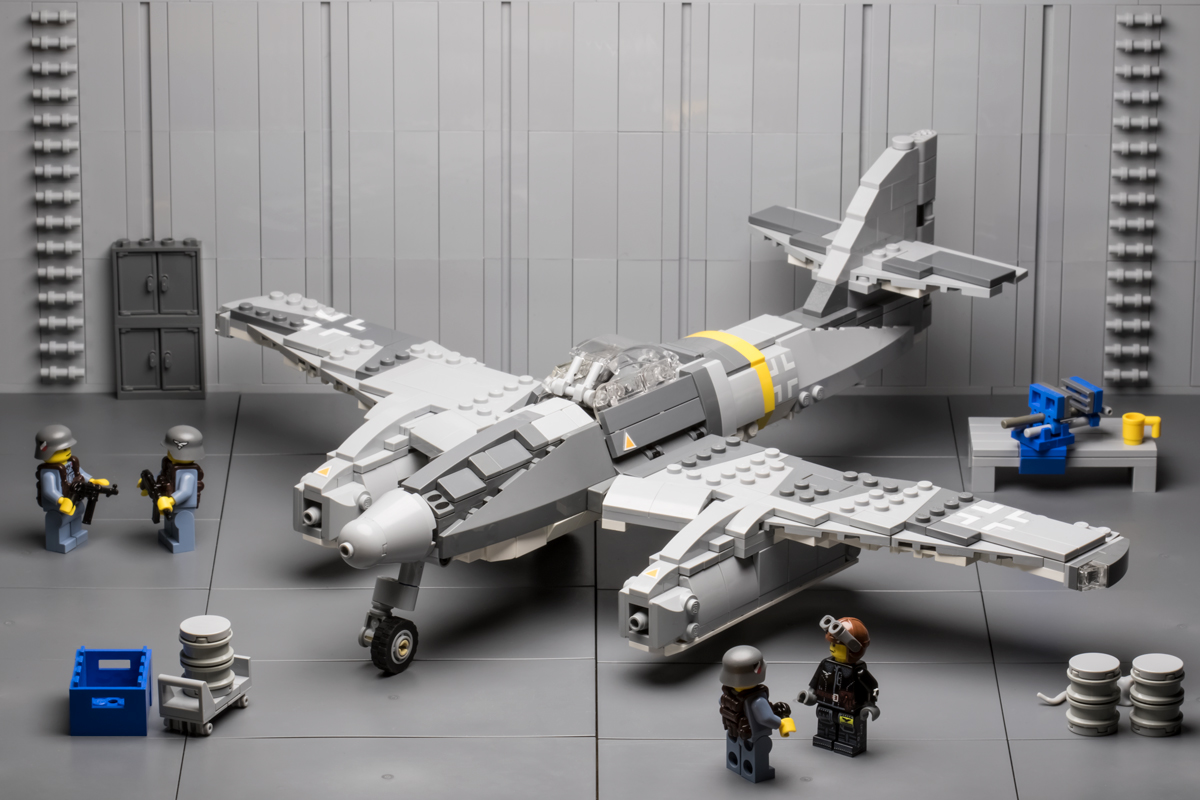 Additional information about this Brickmania custom building kit:
The Messerschmitt Me-262 Swallow comes with the following features:
Features retractable landing gear and moving flaps
Display stand included
Custom-printed WWII German Luftwaffe Pilot
Includes custom printing for Balkenkreuz fuselage and machine gun ports
Designed by Cody Osell
1/35 scale to match other Brickmania models.
Includes 662 genuine new-condition LEGO® bricks and BrickArms® elements
Intermediate Skill Level (3-5 years of experience with LEGO is recommended)
All Brickmania model kits are made of new-condition LEGO bricks. This model comes disassembled and includes complete printed building instructions and comes packaged in a sealed box. This is a limited edition kit and production may be discontinued at any time.
For this Set additional shipping costs will apply.
For more information please see our Shipping Conditions.
This set contains small parts and is not intended for childern under 3 years