About the IS-3 Pike - Russian Heavy Tank:
There are two tanks known as Object 244 and Object 703, that are known as IS-3. Object 244 was an IS-2 rearmed with the long-barreled 85mm cannon and developed by LKZ, which was never series-produced for service use. Object 703 was developed in late 1944 by ChTZ and left the factory shop in May 1945. This tank had an improved armor layout and a semi-hemispherical cast turret, which became the hallmark of post-war Soviet tanks. The IS-3's pointed prow earned it the nickname "Pike" by its crews. It weighed slightly less and stood 30 cm lower than previous versions. Wartime production resulted in many mechanical problems and a hull weldline that had a tendency to crack open.
The IS-3 came too late to see action in WWII. The first public demonstration of the IS-3 came on September 7, 1945 during the Allied victory parade on Charlottenburger Straße in Berlin, with heavily reinforced 71st Guards Heavy Tank Regiment of the 2nd Guards Tank Army. Starting in 1960, the IS-3 was slightly modernized as the IS-3M, in a manner similar to the IS-2M.
Specifications:
Crew: 4
Weight: 46.5 tons
Armament: 1 x 122 mm D-25T main gun
Secondary Armament: 2xDT, DShK
Engine: 600 hp V-2-IS
Maximum Road Speed: 25 mph
Road Range: 115 miles
Armor: 20-220mm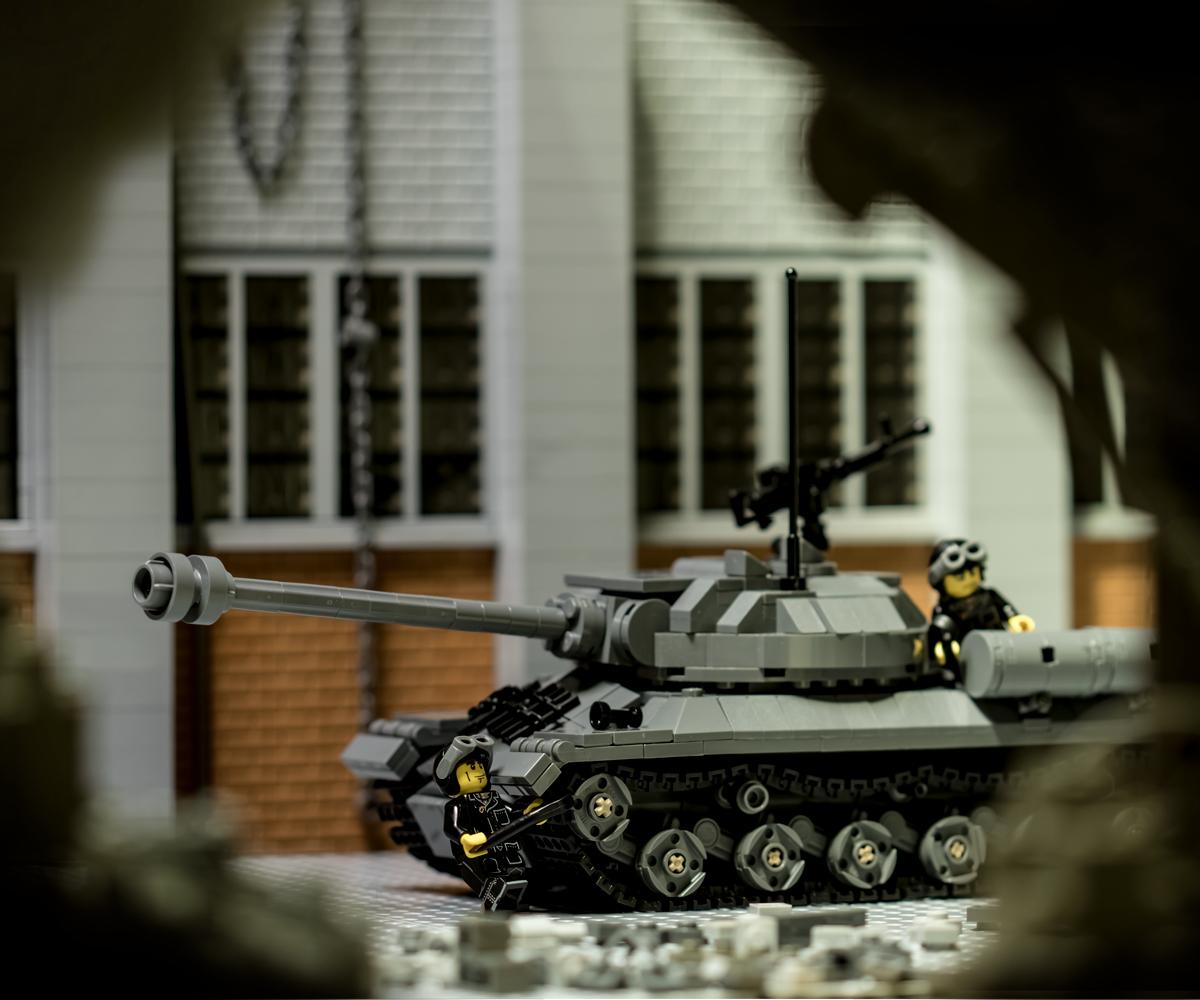 Additional information about this Brickmania custom building kit:
The IS-3 Pike - Russian Heavy Tank comes with the following features:
Distinctive IS-3 peaked hull and frying pan shaping turret
Functional suspension and free-rolling articulated tracks
2 Custom-printed WWII Russian Tanker minifigures
Removable external fuel tank
Opening engine compartment with engine details
Prototype BrickArms DShK hand-made by Will Chapman
Designed by Daniel Siskind
1/35 scale to match other Brickmania models.
Includes 927 genuine new-condition LEGO® bricks and BrickArms® elements
Intermediate Skill Level (3-5 years of experience with LEGO is recommended)
All Brickmania model kits are made of new-condition LEGO bricks. This model comes disassembled and includes complete printed building instructions and comes packaged in a sealed box. This is a limited edition kit and production may be discontinued at any time.
For this Set additional shipping costs will apply.
For more information please see our Shipping Conditions.
This set contains small parts and is not intended for childern under 3 years