The Char B1 was a French heavy tank manufactured before WWII. It was a specialized heavy break-through vehicle, originally conceived as a self-propelled gun with a 75 mm howitzer in the hull. Later, a 47 mm gun in a turret was added to allow it to function also as a "battle tank", fighting enemy armor and equipping the armored divisions of the Infantry Arm. Starting in the early twenties, its development and production were repeatedly delayed, resulting in a vehicle that was both technologically complex and expensive. It was already obsolete when real mass-production of a derived version started in the late thirties.
Among the most powerful armed and armored tanks of its day, it was very effective in direct confrontations with German armor in 1940 during the Battle of France. However, slow speed and high fuel consumption made it ill-adapted to the war of movement then being fought. After the defeat of France, captured Char B1 tanks would be used by Germany with some rebuilt as flamethrowers or mechanized artillery.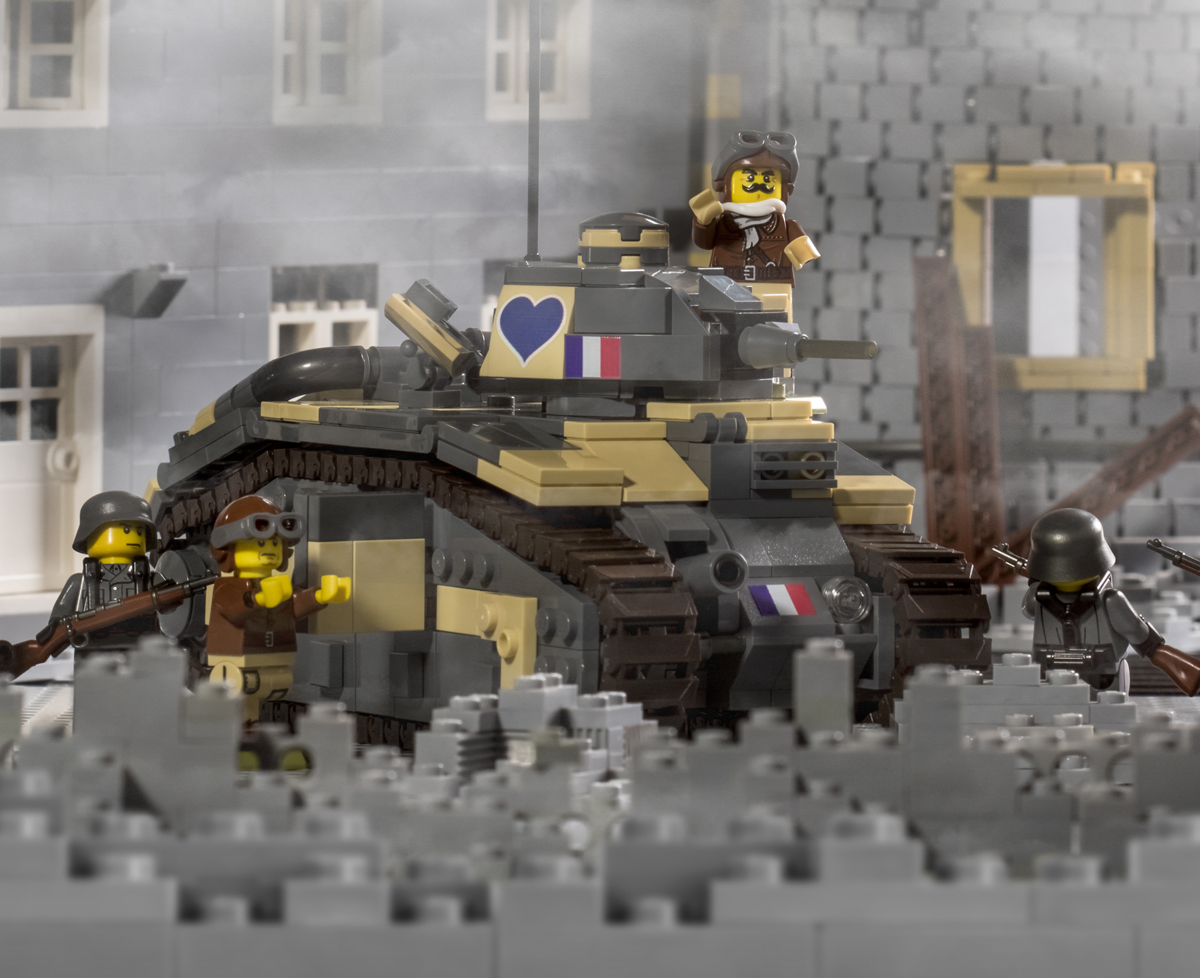 Specifications:
Crew: 4
Units produced: 405
Armor: 40 mm (Char B1); 60 mm (Char B1 bis)
Main armament: 75 mm ABS SA 35 howitzer
Secondary armament: 47 mm SA 34 (Char B1); 47 mm SA 35 (Char B1 bis); 2 x 7.5 mm Reibel machine guns
Engine: Renault inline 6 cylinder 16.5 liter petrol
Fuel capacity: 400 L
Operational range: 120 mi
Speed: 17 mph; 13 mph (off-road)
Additional information about this Brickmania custom building kit:
The Char B1 Bis comes with the following features:
Driver space and hatch
Decorated interior with engine
Commander hatch in turret
Moveable side door
Printed elements and custom-printed WWII French Tank Commander
Designed by Cody Osell
1/35 scale to match other Brickmania models.
Includes 618 genuine new-condition LEGO® bricks and BrickArms® elements
Intermediate Skill Level (4-6 years of experience with LEGO is recommended)
This Brickmania model kit is made from genuine unused LEGO bricks and is shipped disassembled. Also included are full-color printed building instructions and is packaged in a sealed box. All Brickmania building kits are limited production and may be discontinued at any time.