About the BMP-1 (Iraqi):
The BMP-1 is a fully amphibious tracked vehicle, with a front-engined chassis developed especially for it, a welded steel hull with a sharp, sloping front with a conspicuously ridged surface, a centrally located, flat, truncated cone turret and a troop compartment at the rear. Prior to the first Gulf War, Iraq bought around 1,000 BMP-1s and 800 BMP-2s. he first vehicles were bought by Iraq from the USSR in the 1970s. Iraq also developed two upgrades for the BMP-1 and one armored ambulance conversion. The vehicle was mainly used by the Iraqi Republican Guard.
Numerous flaws existed with the design of the BMP-1, which did not become obvious until the Soviet War in Afghanistan. The driver and commander are in a position that would allow an antitank mine to destroy one to three left side roadwheels, killing or severely injuring both of them. The BMP-1 lacks an air conditioning or cooling system, often resulting in severe issues for the passengers and crew members due to heat exhaustion.
Specifications:
Crew: 3 (commander, driver, gunner) + 8 passengers
Units produced: More than 20,000 of all variants (USSR)
Main armament: 73 mm 2A28 "Grom" low pressure smoothbore short-recoil semi-automatic gun (40 rounds); ATGM launcher for 9M14 Malyutka (4 rounds)
Secondary armament: 7.62 mm PKT coaxial machine gun (2,000 rounds)
Engine: UTD-20, 6-cylinder 4-stroke V-shaped airless-injection water cooled multifuel 15.8-liter diesel
Operational range: 370 mi (road); 310 mi (off-road)
Speed: 40 mph (road); 28 mph (off-road); 4.3-5.0 mph (water)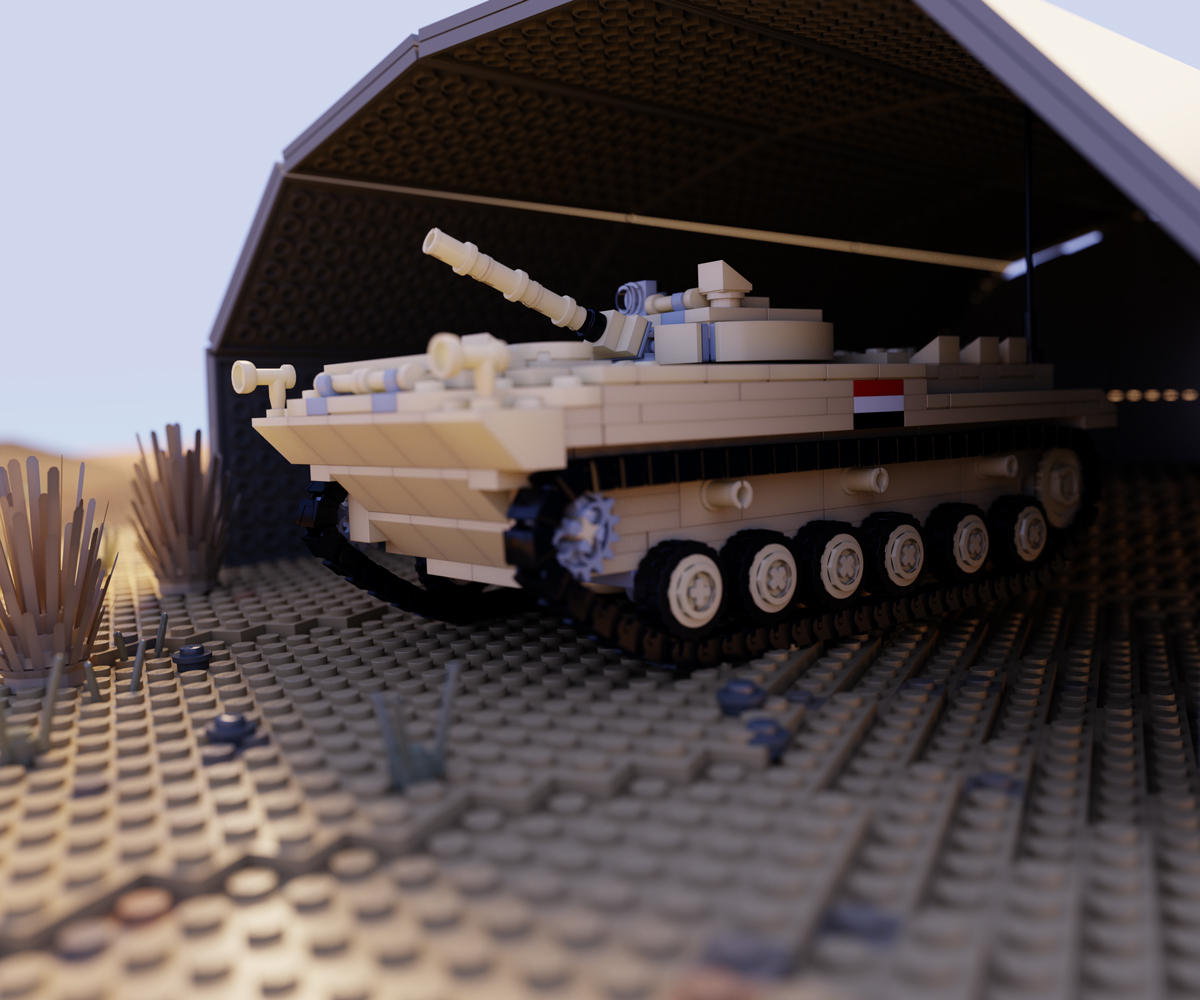 Additional information about this Brickmania custom building kit:
The BMP-1 (Iraqi) kit comes with the following features:
Nine opening hatches for interior access for crew and passengers
Fully rotating turret with posable main gun and spotlight
Fully articulated Brickmania Track Links tank treads
Custom printed minfig with appropriate Desert Storm-era Iraqi uniform
1/35 scale to match other Brickmania models
Designed by Daniel Siskind
Includes 564 genuine new-condition LEGO® elements & BrickArms elements
Intermediate Skill Level (4-6 years of experience with LEGO is recommended)
All Brickmania model kits are made of new-condition LEGO bricks. This model comes disassembled and includes complete printed building instructions and comes packaged in a sealed box. This is a limited edition kit and production may be discontinued at any time.
For this Set additional shipping costs will apply.
For more information please see our Shipping Conditions.
This set contains small parts and is not intended for children under 3 years