About the F-15E Strike Eagle:
The F-15E Strike Eagle is a dual-role fighter designed to perform air-to-air and air-to-ground missions. With a wide array of avionic and electronic systems, it has the capability to fight at high and low altitude, day or night and in all weather. The Strike Eagle has been deployed for military operations in Iraq, Afghanistan and Libya. During these types of operations, it is often used for deep strikes against high-value targets, combat air patrols and provide close air combat. This is a departure from the original intent of the F-15, since it was initially intended as an air superiority fighter.
The F-15E was deployed in response to Iraq's invasion of Kuwait in August 1990 for Operation Desert Shield. They were able to destroy 18 Iraqi jets on the ground at Tallil air base using GBY-12s and CBU-87s. Following Desert Storm, the F-15 was used in Operations Southern Watch and Northern Watch and later Iraq and middle-eastern missions.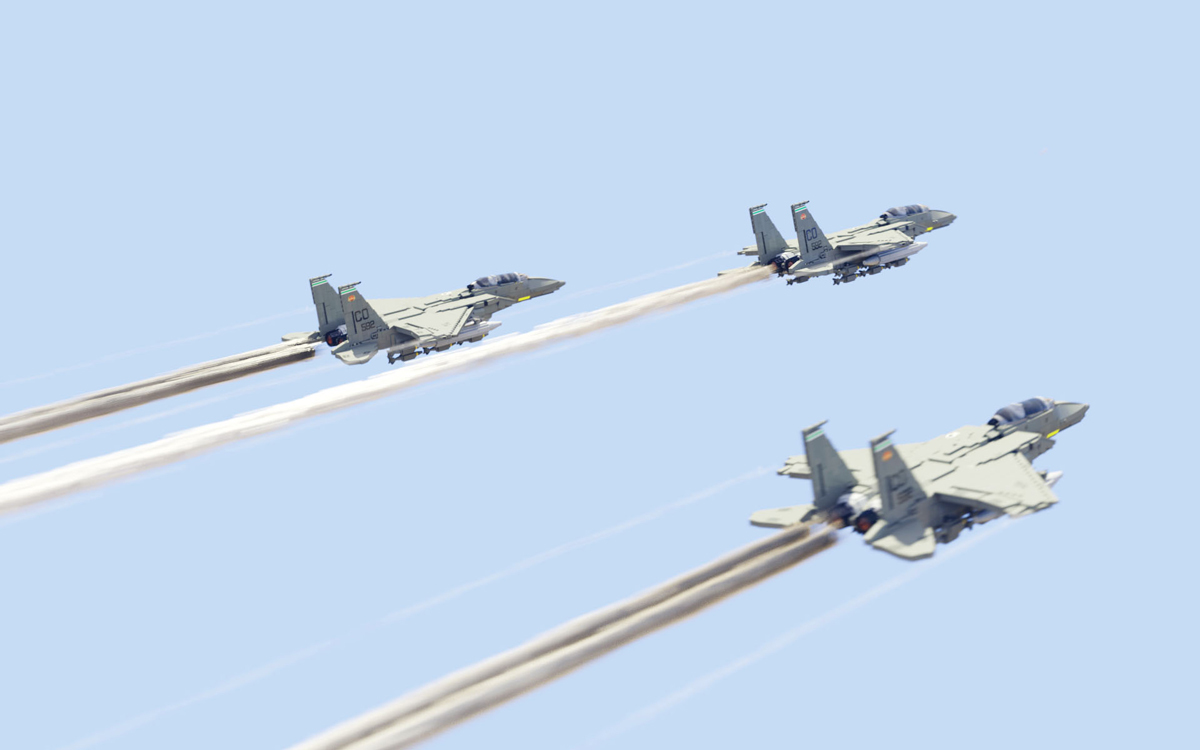 Specifications:
Crew: 2 (pilot and weapons system officer)
Powerplant: 2 x Pratt & Whitney F100-PW-220 or -229 afterburning turbofans
Maximum speed: 1,875 mph (mach 2.5+)
Ferry range: 2,400 mi with conformal fuel tank and three external fuel tanks
Armament: 1 x 20 mm M61A1 Vulcan 6-barreled Gatling cannon, 510 rounds of either M-56 or PGU-28 ammunition
Air-to-air missiles: 4 x AIM-7 Sparrow, 4 x AIM-9 Sidewinder, 8 x AIM-120 AMRAAM
Air-to-surface missiles: 6 x AGM-65 Maverick, 2 x AGM-84 Harpoon, 2 x AGM-84H/K SLAM-ER, AGM-130, AGM-154 JSOW, AGM-158 JASSM
Additional information about this Brickmania custom building kit:
The F-15E Strike Eagle kit comes with the following features:
Brickstuff engine lights with dial control

Desert Storm "general purpose" load out

Moving flaps,

ailerons

, rudders, air brakes, and intakes

Visible turbines through intakes

Custom-printed pilot and radar interceptor officer

Includes printed elements and stickers

Stand with name plate

Retractable landing gear

1/35 scale to match other Brickmania models

Designed by Cody Osell

Includes 1940 genuine new-condition LEGO® elements & BrickArms elements

Advanced Skill Level (6-8 years of experience with LEGO is recommended)
All Brickmania model kits are made of new-condition LEGO bricks. This model comes disassembled and includes complete printed building instructions and comes packaged in a sealed box. This is a limited edition kit and production may be discontinued at any time.
For this Set additional shipping costs will apply.
For more information please see our Shipping Conditions.
This set contains small parts and is not intended for childern under 3 years