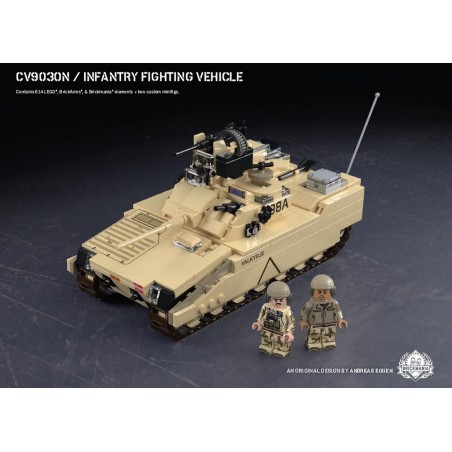  
CV9030N
Brickmania CV9030N - Infantry Fighting Vehicle
About the CV9030N - Infantry Fighting Vehicle:
The CV90 is a Swedish design from the 1990s by BAE Systems Hägglunds, which is now one of the most modern and advanced IFV/light tanks in the world. It was designed with 7 capability requirements, the most important ones being mobility, anti-armor cannon, anti-air capabilities, protection and armor. Due to using rubber tracks, it excelled at maneuverability in difficult terrain like snow and mud commonly faced in the north. It also has some of the most advanced anti-air capabilities ever seen. For example, integrated virtual technology that allows every tank in a team to see and track the enemy if it's been spotted by just one of the CVs. There's plenty of variations of the CV90, a few with different cannons, some with the turret removed and replaced with anti-air cannons, and others with bridges and cranes for engineer requirements. There's also command, medic, and some extended variants for fitting more troops. Some of the newer CV models are developing and incorporating camouflage that reads the surroundings and adapts its color to the environment using advanced screen armor.
This specific variant has the 35mm bushmaster cannon, and a remotely operated 12.7mm gun on top, and it has a coaxial 7.62mm machine-gun and smoke grenade launchers on the sides. This vehicle has the name "Valkyrje" on the side; a reference to the Norse Gods "Chooser of Slain". They were sent by Odin to choose which slain were worthy of a place in Valhalla and Asgard.
Specifications:
Crew: 3 + 8
Armament: 35mm bushmaster cannon, 12.7mm gun, coaxial 7.62mm gun
Range: 320 km (200 mi)
Speed: 70 km/h (43 mph)
Additional information about this Brickmania® custom building kit:
This is the IFV of the future! Loaded with custom printed elements and no stickers, plus two custom minifigs the CV9030N model features everything desired in a tracked Brickmania model. The interior includes space for extra minifigs, along with opening top hatches and a rear door. The turret elevates and traverses as expected, and the build itself is playable and durable.
Model Statistics:
Designed by Andreas Eggen
614 LEGO®, BrickArms®, and Brickmania® elements
2x custom minifigs designed by Landon Reimer
Additional custom printed elements
Full-color printed building instructions
1/35th scale to match other Brickmania kits
Intermediate Skill Level (4-6 years building experience recommended)
All Brickmania® model kits are made of new-condition LEGO® bricks. This model comes disassembled and includes complete printed building instructions. This is a limited-edition kit and production may be discontinued at any time.
This is not a LEGO® Product. LEGO and the LEGO minifigure are trademarks of the LEGO Group, which does not sponsor, authorize or endorse this product. The LEGO Group is not liable for any loss, injury or damage arising from the use or misuse of this product.
For this Set additional shipping costs will apply.
For more information please see our Shipping Conditions.
This set contains small parts and is not intended for childern under 3 years
Customers who bought this product also bought: