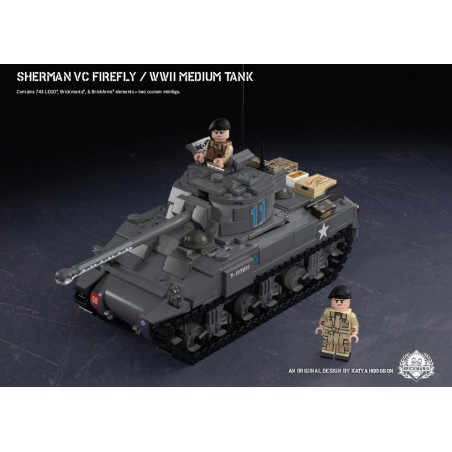  
Sherman Vc Firefly – WWII Medium Tank
Brickmania Sherman Vc Firefly – WWII Medium Tank
About the Sherman Vc Firefly – WWII Medium Tank:
A very successful modification of the M4 Sherman, the Sherman Vc Firefly was used mainly by British forces from 1944 through the end of WWII. The main upgrade was the tank's 17-pdr main gun, which proved more effective against advanced Axis armor toward the end of the war. In the months leading up to D-Day, engineers worked tirelessly to marry the heavy gun into the smaller turret never meant to house a gun of that size. Eventually, they reached a turret configuration capable of firing the 17-pdr, and after a few changes to the chassis and upgraded mantlet armor, the Sherman Vc Firefly was ready for combat.
Ready just in time for D-Day, British and Commonwealth units faced over 70% of all German armor deployed during the Battle of Normandy. Effective at combating the German Panthers, the Sherman Vc Firefly became a primary target for Axis armor. As a counter measure, the British applied an iconic camouflage to the tank's barrel, giving the impression (from a distance) of an M4 with a significantly smaller gun, rather than the Firefly's massive 17-pdr barrel. On an additional note, it's rumored that infamous German tank commander Michael Wittman was killed by a Canadian Firefly near Cintheaux, in August 1944.
Specifications:
Crew: 4
Armament: Ordnance Quick-Firing 17-pounder, 2x 12.7mm machine guns
Range: 193 km (120 miles)
Speed: 32 kph (20 mph)
Additional information about this Brickmania® custom building kit:
Loaded with custom printed details, and play functions, the Sherman Vc Firefly kit is ready to hit the beach in 1944! From tea crates to ammunition, bed rolls, barrel camouflage, engine details, and more, there's no shortage of awesome printed artwork all over this kit. Play features include a rotating turret, opening front hatches, interior for crewman, gun elevation, opening back hatches for engine, and a top back hatch that opens up so you can see the whole engine. Also included is a custom printed minifig and a BrickArms® Firefly Muzzle Brake.
Model Statistics:
Designed by Katya Hodgson
743 LEGO®, BrickArms®, and Brickmania® elements
2x custom minifigs designed by Landon Reimer
1x BrickArms® Firefly Muzzle Brake
Additional custom printed elements
High-quality sticker sheet
Full-color printed building instructions
1/35th scale to match other Brickmania kits
Intermediate Skill Level (4-6 years building experience recommended)
All Brickmania® model kits are made of new-condition LEGO® bricks. This model comes disassembled and includes complete printed building instructions. This is a limited-edition kit and production may be discontinued at any time.
This is not a LEGO® Product. LEGO and the LEGO minifigure are trademarks of the LEGO Group, which does not sponsor, authorize or endorse this product. The LEGO Group is not liable for any loss, injury or damage arising from the use or misuse of this product.
Customers who bought this product also bought: