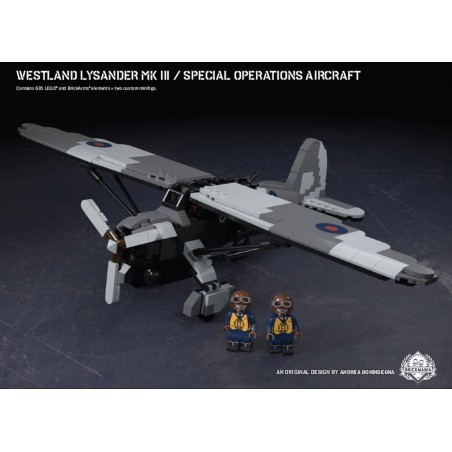  
Westland Lysander Mk III
Brickmania Westland Lysander Mk III – Special Operations Aircraft
About the Westland Lysander Mk III – Special Operations Aircraft:
Relying on stealth for mission success and survival, the Westland Lysander Mk III provided artillery spotting, supply drops, and other essential support throughout WWII. In 1941 the 138 Squadron (Special Duties) was formed, and their Westland Lysander Mk IIIs were painted flat black for night operations and fitted with extra fuel tanks for extended range. The Mk III could then land and take off from tiny, improvised airstrips in Nazi-occupied Europe, providing essential rescue operations, scouting reports, and more to allied soldiers. Most famously, the Mk III was used to transport clandestine agents and support for the Resistance in occupied France.
Specifications:
Crew: 2
Armament: 1x rear-mounted machine gun
Speed: 212 mph (184 knots, 341 kph)
Range: 600 miles (522 nmi, 966 km) on internal fuel
Ceiling: 21,500 ft (6,550 m)
Additional information about this Brickmania® custom building kit:
Sturdy, swooshable, and ready for the night, the Westland Lysander Mk III kit represents an iconic piece of WWII special operations history. Complete with 2x custom minfigs, brick-built drop tank, and 1x BrickArms® Lewis Gun mounted at the rear of the cockpit, the Mk III build accurately captures the iconic wing shape, and features details such as the permanent ladder, spinning prop, and opening 'greenhouse' canopy. Printed details include roundels on the sides and wings. No stickers!
Model Statistics:
Designed by Andrea Boninsegna
635 LEGO® and BrickArms® elements
2x custom minifigs designed by Landon Reimer
Additional custom printed elements
Full-color printed building instructions
1/35th scale to match other Brickmania kits
Intermediate Skill Level (4-6 years building experience recommended)
All Brickmania® model kits are made of new-condition LEGO® bricks. This model comes disassembled and includes complete printed building instructions. This is a limited-edition kit and production may be discontinued at any time.
This is not a LEGO® Product. LEGO and the LEGO minifigure are trademarks of the LEGO Group, which does not sponsor, authorize or endorse this product. The LEGO Group is not liable for any loss, injury or damage arising from the use or misuse of this product.
Customers who bought this product also bought: