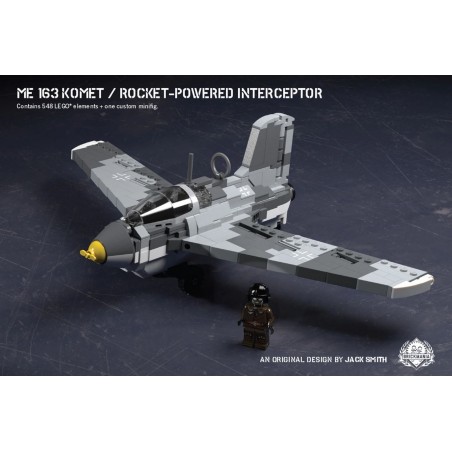  
Me 163 Komet
Brickmania Me 163 Komet – Rocket-Powered Interceptor
About the Me 163 Komet – Rocket-Powered Interceptor:
The first and only tailless rocket-powered interceptor to see operational service, the Messerschmitt Me 163 Komet had little actual effect on the outcome of WWII but was the first piloted aircraft of any type to exceed 1000 km/h in level flight. In combat, however, there were some additional issues; firstly, the aircraft's speed and short range gave pilots a very small window to intercept Allied Bombers. Secondly, the two MK 108 30mm cannons had such a slow rate of fire that hitting a target on the initial pass was nearly impossible. Although solutions to these issues were explored, they were not successfully implemented by the war's end.
In an additional interesting note, Dr. Alexander Lippisch (a German aeronautical engineer and major contributor to the Komet project) was present at the U.S. Army Air Forces facility at Muroc dry lake in California on May 3, 1946 as a result of Operation Paperclip when one of five Me 163s was test flown by the United States.
Specifications:
Crew: 1
Armament: 2x MK 108 30mm cannons
Never exceed speed: 900 km/h (560 mph, 490 kn) at all altitudes
Rate of climb: 81 m/s (16,000 ft/min)
Endurance: 7.5 mins powered
Additional information about this Brickmania® custom building kit:
The only stickers this kit features are for the canopy and underside of the nose. All other details on this kit are custom printed including cannons, gunsight, Balkenkreuzes, and fuselage details. The build itself is sturdy, swooshable and includes a custom pilot minifig.
Model Statistics:
Designed by Jack Smith
548 LEGO® elements
1x custom minifigs
Custom printed elements
High-quality sticker sheet
Full-color printed building instructions
1/35th scale to match other Brickmania kits
Intermediate Skill Level (4-6 years building experience recommended)
All Brickmania® model kits are made of new-condition LEGO® bricks. This model comes disassembled and includes complete printed building instructions. This is a limited-edition kit and production may be discontinued at any time.
This is not a LEGO® Product. LEGO and the LEGO minifigure are trademarks of the LEGO Group, which does not sponsor, authorize or endorse this product. The LEGO Group is not liable for any loss, injury or damage arising from the use or misuse of this product.
Customers who bought this product also bought: