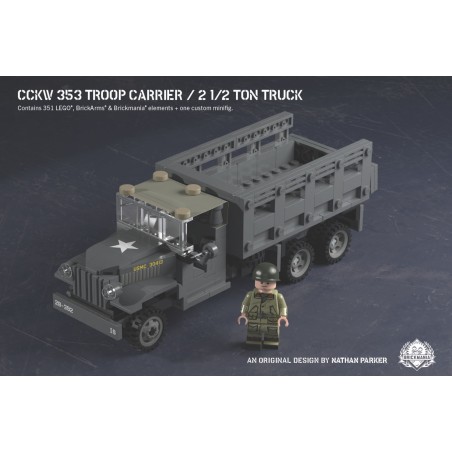  
CCKW 353 Troop Carrier – 2 1/2 Ton Truck
Brickmania CCKW 353 Troop Carrier – 2 1/2 Ton Truck

About the CCKW 353 Troop Carrier – 2 1/2 Ton Truck:
Commonly referred to as the "Deuce-and-a-Half," the CCKW 2 ½ Ton Truck formed the backbone of the Allied advance in Europe. Entering production months before the United States' entrance into WWII, the CCKW was designed to be the do-all truck for the Army and Marine Corps. It could haul ammo, food, supplies, troops, and artillery, and perform more advanced roles such as towing, communications, and water and fuel storage.
Over 550,000 2 ½ ton trucks had been built and were in service. With so many CCKWs in circulation, the truck remained in service in the US Army and its European allies for decades after its peak use had passed. The vehicle remained popular throughout the Cold War, into the Korean Conflict, with some armies still using the truck well into the 1990s.
Specifications:
Weight, loaded: 16,400 lb (7,400 kg)
Engine: Straight-6, 104 hp (78 kW) at 2,750 rpm
Transmission: 5 speed manual with transfer case
Maximum speed: 45 mph (72 km/h)
Additional information about this Brickmania® custom building kit:
This all new CCKW 6x6 features new printing for both US Army and US Marines versions, and a canvas fabric topper just like the later trucks. A folding rear tailgate, spare tire, tow hook, and off-road suspension make this truck a necessity for moving your minifigs or resupplying your home artillery battery.
Model Statistics:
Designed by Nathan Parker
351 LEGO®, BrickArms® & Brickmania® Elements
1x custom minifig
Additional custom printed elements
Full-color printed building instructions
1/35th scale to match other Brickmania kits
Sophomore skill level (2-4 years building experience recommended)
All Brickmania® model kits are made of new-condition LEGO® bricks. This model comes disassembled and includes complete printed building instructions. This is a limited-edition kit and production may be discontinued at any time.
This is not a LEGO® Product. LEGO and the LEGO minifigure are trademarks of the LEGO Group, which does not sponsor, authorize or endorse this product. The LEGO Group is not liable for any loss, injury or damage arising from the use or misuse of this product.
For this Set additional shipping costs will apply.
For more information please see our Shipping Conditions.
This set contains small parts and is not intended for childern under 3 years
Customers who bought this product also bought: