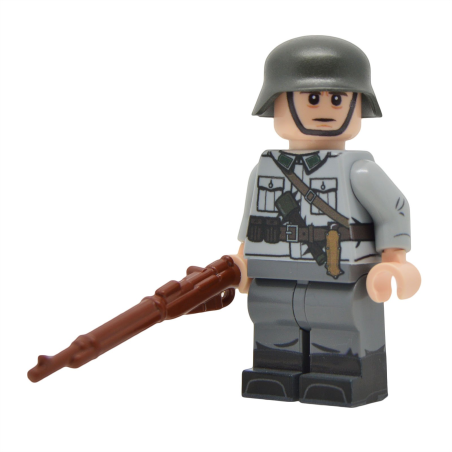  
Continuation War Finnish Infantry (Summer Tunic)
United Bricks  - Continuation War Finnish Infantry (Summer Tunic)

United Bricks premium printed LEGO® Minifigs.


The Continuation War began 15 months after the end of the Winter War. In June 1941, with the start of the German invasion of the Soviet Union, the Finnish Defence Forces launched their offensive following Soviet airstrikes. By September 1941, Finland occupied East Karelia and reversed its post–Winter War concessions to the Soviet Union along the Karelian Isthmus and in Ladoga Karelia. The Finnish Army halted its offensive past the old border, around 30–32 km (19–20 mi) from the centre of Leningrad and participated in besieging the city by cutting its northern supply routes and digging in until 1944. The conflict stabilised with only minor skirmishes until the tide of the war turned against the Germans and the Soviet Union's strategic Vyborg–Petrozavodsk Offensive in June 1944. The attack drove the Finns from most of the territories they had gained during the war, but the Finnish Army halted the offensive in August 1944.
Hostilities between Finland and the USSR ended with a ceasefire, which was called on 5 September 1944, formalised by the signing of the Moscow Armistice on 19 September 1944. One of the conditions of this agreement was the expulsion, or disarming, of any German troops in Finnish territory, which led to the Lapland War between the former co-belligerents.
United Bricks historical minifigures are printed on genuine brand new LEGO parts using a high quality UV printing method.
They make the perfect gift and are a great way for children [and adults] to learn history through building.
You are buying only the MiniFig and not the minifig and / or other displayed Legos
This set contains small parts and is not intended for childern under 3 years.
Customers who bought this product also bought: