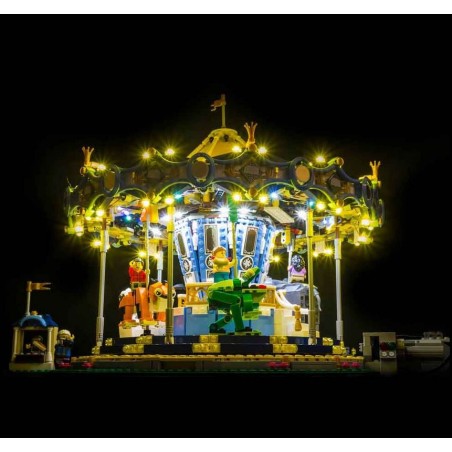  
Light My Bricks - Lighting set suitable for LEGO Carousel 10257
Light up your : LEGO Carousel

PLEASE NOTE: This only concerns a lighting set and not the LEGO® set shown.
The LEGO Carousel (10257) is an ultra-realistic take on the classic and much-beloved carnival ride. Developed as part of the Creator Expert line, the Carousel is packed with intricate details with additional functional parts that allows the model to rotate and move like the real thing!

Carnivals are all about popcorn, candyfloss and classic rides like the Carousel. Nostalgia and joy are to be had when riding this all-ages attraction - and LEGO has captured all the fun and wholesomeness in this 2,660 piece build.

Carnivals are attractions that operate both day and night, and it's nighttime where Light My Bricks comes in. Our custom designed LEGO light kit contains all the lighting components you'll need to make your LEGO Carousel a fully functioning and attractive ride in the dark.

Our easy to install LEGO light up kit contains a whopping 60 individual lights that are designed to fit perfectly in this dynamic, moving LEGO set. LED lights adorn the ornate decorations that line the roof of the carousel, while flashing lights below bring the true carnival spirit.

Turn the LEGO Carouse from a great set into something truly spectacular. Whether this model is on display by itself or part of your own LEGO town, our LEGO lighting kit is the perfect complement to bring your set to life.
Easy Light
Light My Bricks LEGO® Lighting Kits provide an easy way for LEGO® fans to customize their models using LED lights. With detailed, step-by-step instructions, anyone can light up their LEGO® set.
This kit contains:
48 x White Bit Lights
6 x White Strip Lights
10 x Connecting Cables
2 x Multi-Colour Changing Light String
5 x Expansion Boards
10 x Adhesive Squares
6 x Assorted LEGO® pieces for assembly
1x AA Battery Pack (requires 3x AA Batteries)
Video
Installation Guide
User guide instructions for this kit can be found on the Users Guides section.
Connect Multiple Kits
Do you have multiple Light My Bricks Lighting Kits or wish to light up multiple sets using a single power function? Light My Bricks offers a Multi-Light Kit Connection Kit which makes it easy to connect up to 4 lighting kits together. You can even connect these kits together to create an even larger single lighting circuit!
All Light My Bricks kits are plug and play - no electronics knowledge needed!
Please note: This set is a LED lighting kit only. All LEGO® sets featured in images and videos are sold separately.
This set contains small parts and is not intended for childern under 3 years.
Customers who bought this product also bought: