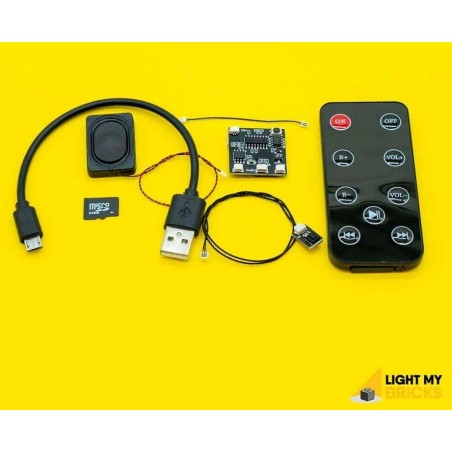  
Remote Control and Sound Kit
Light My Bricks -Remote Control and Sound Kit

Light My Bricks - Remote Control and Sound Kit

Bring your LEGO to life with our Light My Bricks Remote Control and Sound Kit! Add a whole new dimension to your LEGO sets with the ability to play back audio effects of your choosing.
This kit contains a tiny 2-watt speaker that can be easily concealed within your LEGO sets. But don't let its diminutive size fool you, it packs a lot of punch for a tiny speaker. Simply upload your desired audio MP3s, whether it's theme music, or a sound effects, the choice is yours!
Additionally, this kit comes with a 9-button remote control that will allow you to control both your audio and light functions!
Functions include:
- Turn on/off
- Dim/brighten lights
- Play, Pause, Skip audio
- Volume up/down audio
The Light My Bricks Remote Control and Sound Kit includes a 64MB memory card with 9 pre-loaded audio tracks in MP3 format:
1. Everything is Awesome
2. Disneyland theme
3. Harry Potter Theme
4. Ninjago theme
5. Millennium Falcon take off and interior sounds
6. Ghostbusters Theme
7. City Police Siren
8. So Ruff So Tuff
9. Star Wars Main Theme
Simply load your desired MP3s to the remote control board via the micro USB cable (drag and drop).
Add an extra level of realism to your LEGO sets with our Remote Control and Sound Kit today!
This kit contains:
1x Remote Control 
1x Remote Control and Sound Board
1x 64MB Memory Card (pre-inserted)
1x IR Receiver with 30cm Connecting Cable
1x Speaker with 15cm Connecting Cable
1x 5cm Connecting Cable
1x Micro USB Cable
Video
Important Note regarding Power: Whilst the remote control system can be powered using the battery packs, LightMyBricks recommends powering the remote control system via mains electricity (connecting our usb power cable into the LMB universal wall adaptors. This will eliminate any potential issues relating to draining of batteries.


Light My Bricks LEGO® Lighting Components provide an easy DIY way for LEGO® fans to customize their models using LED lights. With a wide variety of colours, lighting options and effects, anyone can light up their LEGO® set.

All Light My Bricks components are plug and play - no electronics knowledge needed!
Customers who bought this product also bought: