BOC Bricksworld Own Creation

Additional information about this custom Lego® kit:
Interior/exterior set for Station 2150-4554.
Includes a kiosk, a toy shop, train map, ATM, a bicycle, a taxi and 5 Minifigures.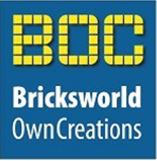 All Bricksworld Own Creations (BOC's) are composed of original new LEGO parts and are provided with a clear building manual!
For this Set additional shipping costs will apply.
For more information please see our Shipping Conditions.
This set contains small parts and is not intended for childern under 3 years