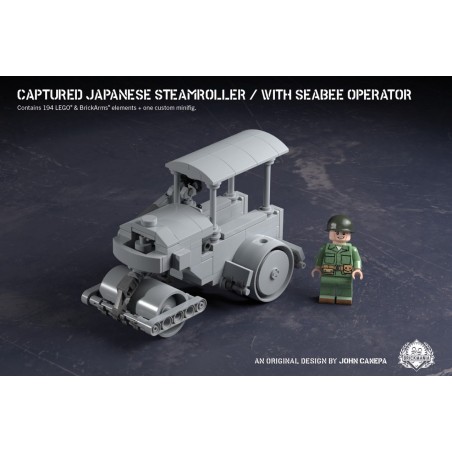  
Captured Japanese Steamroller with Seabee Operator
Brickmania Captured Japanese Steamroller with Seabee Operator
About the Captured Japanese Steamroller with SeaBee Operator:
To defend the Empire of the Rising Sun, Japan constructed a series of bases and airfields on islands across the Pacific landscape. These island fortresses created forward bases for the Japanese to conduct air raids and plan amphibious invasions. This zone went as far south as New Guinea, east as Wake Island, and north as the Aleutian Islands. However, after the turning point of the Battles of Coral Sea and Midway, the Allied armies and navies went on the offensive. The Solomon Islands, directly east of New Guinea, posed a threat to both Australia and allied shipping. The airfield on the island of Guadalcanal was the primary target. To build the airfields that dotted the Pacific, Japan used typical construction equipment repurposed for the military. The steamroller was the primary tool needed to craft the airfields. Its heavy rollers pulverized the ground beneath it, creating a flat and hard surface that was able to take the abuse of airplanes landing on it.
Within the first 36 hours of the landing on Guadalcanal, marines of the 1st Marine Division captured the newly dubbed Henderson field. Immediately, Navy Seabees—a newly created naval construction division with the motto Construimus, Batuimus, "We Build, We Fight"—used captured Japanese Steamrollers to finish the field's construction. Throughout the Pacific theater, Seabees used captured Japanese equipment to complete construction and defenses during the heat of battle. 
Specifications:
Weight: 6 ton, 11 ton (kg 5000 Kg, 10000 Kg)
Roller Type: single drum roller, double rear roller
Engine: Diesel 76 HP
Additional information about this Brickmania® custom building kit:
This sleek and sturdy kit is the perfect addition to your latest MOC or just part of your collection. Smooth roller wheels, modeled steering linkage, and posable front roller make this picture-perfect model the ideal kit for rolling out the runway for some pacific warbirds.
Model Statistics:
Designed by John Canepa
194 LEGO® & BrickArms® elements
1x custom minifig
Additional custom printed elements
Full-color printed building instructions
1/35th scale to match other Brickmania kits
Sophomore skill level (2-4 years building experience recommended)
All Brickmania® model kits are made of new-condition LEGO® bricks. This model comes disassembled and includes complete printed building instructions. This is a limited-edition kit and production may be discontinued at any time.
This is not a LEGO® Product. LEGO and the LEGO minifigure are trademarks of the LEGO Group, which does not sponsor, authorize or endorse this product. The LEGO Group is not liable for any loss, injury or damage arising from the use or misuse of this product.
Voor deze set zijn additionele verzendkosten van toepassing.
Voor meer informatie zie onze Leveringsvoorwaarden.
Deze set bevat kleine onderdelen en is niet geschikt voor kinderen onder de 3 jaar.
Je bent misschien ook geïnteresseerd in
Klanten die dit product aangeschaft hebben kochten ook...