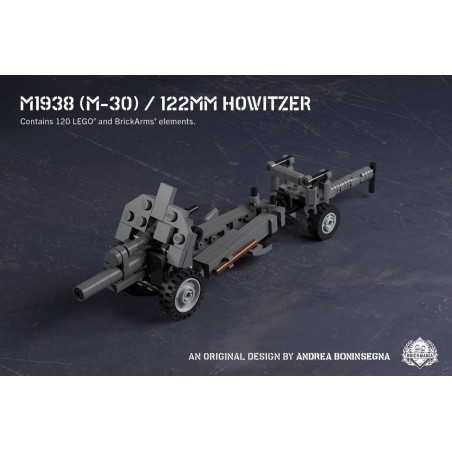  
M1938 (M-30) – 122mm Howitzer
Brickmania M1938 (M-30) – 122mm Howitzer

About the M1938 (M-30) – 122mm Howitzer:
The M1938 122mm howitzer was the Soviet's most advanced design of the time. This model replaced older 122mm guns that were based on pre-WWI designs. Obvious upgrades included split-tail and rubber tires to ease transportation and increase maneuverability—especially with motorized transportation—as well as a leaf-spring suspension. The gun kept the 122mm diameter but elongated the cannon itself to maximize the range of the projectile. The gun of the M1938 was so effective it was later utilized in the Soviet SU-122 line of tank destroyers.
The gun entered service in 1939 and was thrust into action during Operation Barbarossa, or the German invasion of the Soviet Union, in 1941. With the surprise German attack, Soviet factories went into overdrive to supply frontline troops with the needed material to fend off the Nazi machine. By 1943, the M1938 was among the most numerous howitzers in the arsenal. Its main use was to soften enemy troop positions and fortifications as the Red Army slowly turned the tide. In places like Stalingrad, the guns were used to pin the enemy down as the Soviets encircled the former invaders, further tightening the stranglehold. The M1938 remained in service with the Red Army through the 1960s. However, as most things Soviet, the guns were issued to Warsaw Pact nations, whose militaries used them long after they were obsolete.
Additional information about this Brickmania® custom building kit:
This MOC-ready build can be showcased deployed or hooked into a convoy. Play features include an elevating gun, brick-built sight and breech, split-tail, and ammo cart.
Model Statistics:
Designed by Andrea Boninsegna
120 LEGO® & BrickArms® elements
Full-color printed building instructions
1/35th scale to match other Brickmania kits
Sophomore Skill Level (2-4 years building experience recommended)
All Brickmania® model kits are made of new-condition LEGO® bricks. This model comes disassembled and includes complete printed building instructions. This is a limited-edition kit and production may be discontinued at any time.
This is not a LEGO® Product. LEGO and the LEGO minifigure are trademarks of the LEGO Group, which does not sponsor, authorize, or endorse this product. The LEGO Group is not liable for any loss, injury or damage arising from the use or misuse of this product.
Voor deze set zijn additionele verzendkosten van toepassing.

Voor meer informatie zie onze Leveringsvoorwaarden.
Deze set bevat kleine onderdelen en is niet geschikt voor kinderen onder de 3 jaar.
Je bent misschien ook geïnteresseerd in
Klanten die dit product aangeschaft hebben kochten ook...