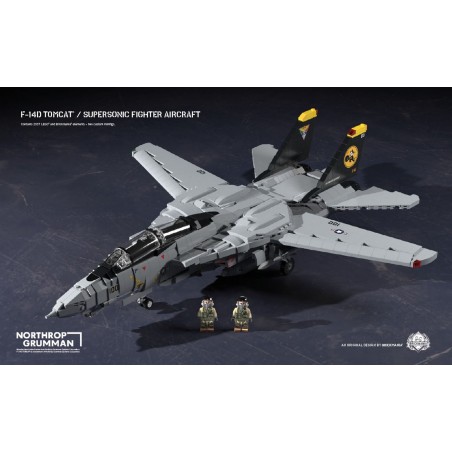  
F-14D Tomcat® – Supersonic Fighter Aircraft
Brickmania F-14D Tomcat - Supersonic Air Superiority Interceptor
NOTE: This is a prototype product pending approval by the licensor. Some changes may be implemented before official release.
About the F-14D Tomcat® – Supersonic Fighter Aircraft:
Few aircraft rival the popularity and recognition of the iconic Grumman F-14 Tomcat®. Its rise in fame and favor is in part due to its inclusion in some of Hollywood's most iconic movies. Flying through some of the most dangerous conflict zones on the big screen as well as the small screen, the Tomcat eschews 1980s Americana—Aviator glasses, leather jackets, and big hair. However, its actual history is much more nuanced. Before flying into fame, the Tomcat first had to pass the United States Navy's strict set of requirements.
By the late 1960s, the Soviet Union and its satellite nations had built up an arsenal of long-range bombers and fighters along with advanced surface-to-air missile defense systems. The Vietnam-era F-4 Phantoms were considered outdated and had difficulty pacing the new Soviet weapons. To counter this new threat, the Navy needed to upgrade its fleet carrier aircraft. The requirements were strung together by Grumman Aircraft Engineering Corp in November of 1967. The Fighter Experimental (VFX) proposal was accepted by the Navy in 1968. The following year, five design proposals were submitted. Of those, Grumman's aircraft was accepted. The birth of the Tomcat had arrived.
The F-14 was a carrier-capable, supersonic, twin-engine, two-seater, variable-swept wing fighter. The Tomcat's list of primary missions included air superiority, fleet air defense, and precision strike capability against ground targets. Its variable-swept wing design helped with short take-offs by generating more lift, as well as navigating close quarters. When the wings were swept rearward—to 68 degrees—the fighter could exceed speeds of Mach 2, thanks to its twin, 21,000lbs thrust engines. The F-14 could be kitted out with an impressive array of armaments that were mission adaptable. This included, AIM-54 Phoenix air-to-air missiles, AIM-7 Sparrow radar-guided missiles, AIM-9 Sidewinder infrared-guided missiles, an array of air-to-ground weapons (MK-80 series GP bombs), and an internally mounted M61A-1 Vulcan 20mm cannon. The fighter's state-of-the-art airborne early-warning aircraft radar meant the Tomcat could engage and destroy multiple targets out to distances of 100 miles from its carrier task force.
The Tomcat entered official service in 1974 with over 700 being built by 1991. By the early 2000s, the Tomcat was replaced by newer 4th generation fighters. The Tomcat was an important jet fighter that served the United States valiantly during pivotal moments of the Cold War.
Additional information about this Brickmania® custom building kit:
This long-awaited return features a completely reworked design, as well as a full payload, play functions, custom printing, and a pair of pilot minifigs. Play features include working flaps and ailerons, as well as the iconic folding wing function reconfigured to be easier to maneuver than ever before! Custom printed details include markings for the VF-31 Tomcatters, as well as a new cockpit design and other features. Also included is a brick-built display stand with custom printed nameplate. From the design to the artwork this kit is premium through and through – a must-have for all aircraft collectors!
Model Statistics:
Designed by Brickmania
2037 LEGO® & Brickmania® elements
2x custom minifigs
Custom printed elements
Full-color printed building instructions
1/35th scale to match other Brickmania kits
Expert Skill Level (8-10 years building experience recommended)
Manufactured under license from Northrop Grumman Systems Corporation. Tomcat® is a trademark of Northrop Grumman Systems Corporation.
All Brickmania® model kits are made of new-condition LEGO® bricks. This model comes disassembled and includes complete printed building instructions. This is a limited-edition kit and production may be discontinued at any time.
This is not a LEGO® Product. LEGO and the LEGO minifigure are trademarks of the LEGO Group, which does not sponsor, authorize, or endorse this product. The LEGO Group is not liable for any loss, injury or damage arising from the use or misuse of this product.
Voor deze set zijn additionele verzendkosten van toepassing.

Voor meer informatie zie onze Leveringsvoorwaarden.
Deze set bevat kleine onderdelen en is niet geschikt voor kinderen onder de 3 jaar.
Uw beoordelingswaardering kan niet worden verzonden
Rapporteer reactie
Bent u zeker dat u deze opmerking wil rapporteren?
Melding verzonden
Uw opmerking is ingediend en zal door een beheerder worden behandeld.
Uw opmerking kan niet worden verzonden
Klanten die dit product aangeschaft hebben kochten ook...
Schrijf je product beoordeling
Beoordeling verstuurd
Uw beoordeling is toegevoegd en wordt beschikbaar zodra deze is goedgekeurd.
Uw beoordeling kan niet worden verzonden