Nieuw
PRE-ORDER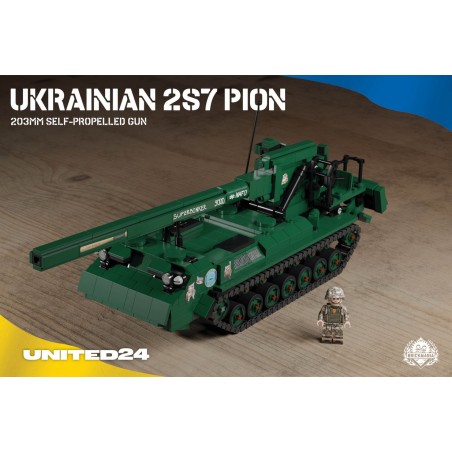  
Ukrainian 2S7 Pion
Brickmania Ukrainian 2S7 Pion – 203mm Self-Propelled Gun
PRE ORDER: Versturen vanaf mid April!
This kit helps support Brickmania's Ukrainian Benefit effort with proceeds going to United24. As of January 24, 2023 this amazing community has helped raise $244,595.42 to benefit United 24, Wingmen for Ukraine, Direct Relief, Ukrainian Red Cross, and other organizations directly involved in providing relief to the Ukrainian people – we thank you for your continued support!
About the Ukrainian 2S7 Pion – 203mm Self-Propelled Gun:
The mobilization of artillery is not a new concept. Since the introduction of the combustion engine, militaries have been using them to gain a tactical and logistical advantage. For example, British Lorries during the Great War were outfitted with a 13-pound antiaircraft gun that gave them lethal mobility. Even earlier, during the American Civil War, mortars and large cannons were attached to train cars for easy transportation. But it was not until World War II that self-propelled artillery was cemented into modern military strategy. Many of these guns were converted from pre-existing tank chassis, including the American M7 Priest, Soviet SU-76, and German Stug III. As the war progressed, these guns only grew. The Soviet Union seemingly pushed the boundaries of the self-propelled gun (SPG) concept. While many nations employ these vehicles, it was the Soviets who made them transcendent. The 2S7 Pion was the pinnacle of the Soviet's lust for a bigger cannon. The Pion sports a prodigious 203mm gun, making it one of the most powerful SPGs ever produced. It is based on the Soviet T-80 tank that has been heavily modified to handle the impressive firepower. Production likely began in the late 1960s or early 1970s, but it wasn't until 1975 when the Western powers became aware of its existence. Its primary mission was to engage distant high value targets, such as bunkers, command posts, and troop encampments.
This massively tracked gun requires a crew of fourteen to operate smoothly. The Pion can carry half of the crew in the driving compartment, while the rest must ride in auxiliary vehicles—such as trucks or armored personal carriers. This SPG utilizes a load assist system to aid in the crew's handling of the 242lbs projectiles. The gun has a range of 23 to 29.5 miles depending on payload. The 2S7 can unload combinations of high explosive (HE) or rocket assisted HE, shells, amongst other nuclear or chemical warheads. Due to the weight of the shells themselves, only eight are carried at a time, with four on the SPG and the others in an escorting vehicle. Typical strategy for the Pion involves firing a round or two off then relocating to a new firing position—this takes advantage of the vehicle's mobility. Like many things Soviet, they have seen proliferation in former ComBloc nations. Places like Czechoslovakia, Poland, Belarus, Georgia, Uzbekistan, and Ukraine all have 2S7 Pions in their arsenals. The current Russian army has retained detachments as well, making Russia's assault capability that much more formidable. Today, the 2S7 Pion is being utilized by both sides during the ongoing conflict in Ukraine.
Additional information about this Brickmania® custom building kit:
This sharp looking build features a dark green color scheme, custom printed details, and a custom Ukrainian operator minifig. Also included is a custom sticker pack to transform the more generic Pion into the NAFO Super Bonker 9000 as seen across social media. Play features include a massive elevating and traversing main gun, 4x opening hatches, functional suspension, deployable spade blade, brick-built loading crane, and smooth rolling V3 Track Links™
Model Statistics:
Designed by Daniel Siskind
1314 LEGO®, Brickmania® & BrickArms® elements
1x custom minifig
Custom printed elements
Full-color printed building instructions
1/35th scale to match other Brickmania kits
Advanced Skill Level (6-8 years building experience recommended)
Alle Brickmania®-modelsets zijn gemaakt van LEGO®-stenen in nieuwstaat. Dit model wordt gedemonteerd geleverd en bevat volledige gedrukte bouwinstructies. Dit is een kit met beperkte oplage en de productie kan op elk moment worden stopgezet.

Dit is geen LEGO®-product. LEGO en de LEGO minifiguur zijn handelsmerken van de LEGO Groep, die dit product niet sponsort, autoriseert of goedkeurt. De LEGO Groep is niet aansprakelijk voor enig verlies, letsel of schade die voortvloeit uit het gebruik of misbruik van dit product.
Deze set bevat kleine onderdelen en is niet geschikt voor kinderen onder de 3 jaar.
Uw beoordelingswaardering kan niet worden verzonden
Rapporteer reactie
Bent u zeker dat u deze opmerking wil rapporteren?
Melding verzonden
Uw opmerking is ingediend en zal door een beheerder worden behandeld.
Uw opmerking kan niet worden verzonden
Schrijf je product beoordeling
Beoordeling verstuurd
Uw beoordeling is toegevoegd en wordt beschikbaar zodra deze is goedgekeurd.
Uw beoordeling kan niet worden verzonden