Nieuw
PRE-ORDER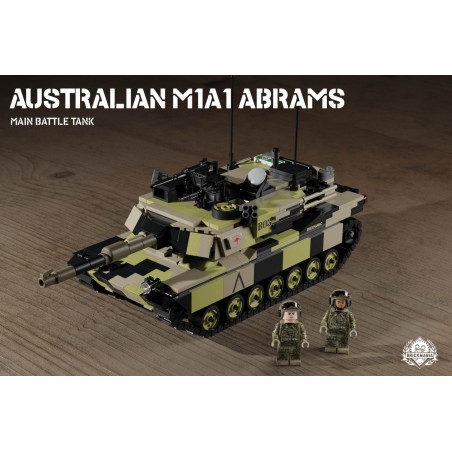  
Australian M1A1 Abrams – Main Battle Tank
Brickmania Australian M1A1 Abrams – Main Battle Tank
PRE ORDER: Versturen vanaf mid April!
About the Australian M1A1 Abrams – Main Battle Tank:
The result of decades worth of development and research, the Abrams tank is the most advanced Main Battle Tank (MBT) that the United States has ever built. What started as a collaboration effort between West Germany and the United States to build a tank to compete against the T-62 has turned into a design that has lasted decades. First production models of the Abrams entered service in 1978. Its development coincided with the arms race of the Cold War, when the Soviets were developing tanks at an alarming rate, causing the western world to keep pace. Thankfully, the Cold War never warmed and open tank battles across Europe never materialized. Even still, the Abrams tank has stood resolute. Though it never fought Soviet forces, the Abrams has gone toe-to-toe with Soviet era weapons on the battlefield. In each instance, the Abrams stood strong.
The key to the Abrams success and longevity is it forward compatibility. The tank has gone through series of updates and advancements to its weapons and information systems allowing it to perform well into the Twenty-First Century. The most recent Abrams—the M1A2—received approval for production in 1990. Outwardly similar to its predecessor, save for updates given to the Commander's Weapon Station and an independent thermal viewer for the commander, the majority of updates involved the Inter-Vehicle Information System (IVIS). The IVIS links supporting units and allows the commander to track movement, identify enemy targets, and disseminate information quickly. In a modern world the need for information and communication is integral to military strategy. These advancements speed up that process while enhancing the information available to the commander. As warfare has changed, head-on battles with opposing tanks have been relegated to insurgent conflicts with enemies using improvised explosive devices (IEDs) and Soviet made RPG-7s to defeat American Armor. To protect tanks and their crews, depleted uranium mesh was placed at the front of the hull and turret. The interior of the turret is further protected by a Kevlar lining to prevent spalling. Of course, a tank isn't dominant without a serious main gun. Developed by famed German arms manufacturer Rheinmetall and built under license in the United States, the M256 120mm smoothbore gun is effective and lethal on the modern battlefield. With an advanced fire control system and range of 4 kilometers with a stabilized aiming system, the Abrams truly is the pinnacle of MBTs.
While the Abrams is largely seen as an American Tank, it is used by various allies of the nation. One is the nation down under. The Australians in recent years have diverted significant funding to the modernization of the Australian Defense Force. This includes a $2.5 billion dollar deal that lands the island nation seventy-five brand new M1A2 SEPv3 tanks (the latest version with improved armor, technology, and lethality), twenty-nine M1550 Assault Breacher Vehicles, seventeen M1074 Joint Assault Bridge Vehicles, and six M88A2 Armored Recovery Vehicles. These assets will supplant the M1A1 Abrams tanks already in service, giving an edge to the Australians. While the future is muddled, the Australians, with the aid of the Abrams, have an advanced land fighting force in the Asia Pacific region. These vehicles will arrive in 2024.
Additional information about this Brickmania® custom building kit:
This incredible build features a unique brick-built camp and new custom created elements to assemble a highly detailed Abrams' MBT barrel. All details are custom printed, including a case of Brictoria Bitter and 2x custom Australian tanker minifigs. Play features include a functional suspension, opening hatches, elevating and depressing main gun, mounted BrickArms®, opening engine doors, removable engine deck, and smooth rolling V3 Track Links™. Upgrade your build with up to 2x optional Australian Modern Infantry Soldier with Perfect Caliber™ BrickArms® EF88!
Model Statistics:
Designed by Brickmania Design Team
1204 LEGO®, Brickmania® & BrickArms® elements
2x custom minifig
Custom printed elements
Full-color printed building instructions
1/35th scale to match other Brickmania kits
Intermediate Skill Level (4-6 years building experience recommended)
All Brickmania® model kits are made of new-condition LEGO® bricks. This model comes disassembled and includes complete printed building instructions. This is a limited-edition kit and production may be discontinued at any time.
This is not a LEGO® Product. LEGO and the LEGO minifigure are trademarks of the LEGO Group, which does not sponsor, authorize, or endorse this product. The LEGO Group is not liable for any loss, injury or damage arising from the use or misuse of this product.
Voor deze set zijn additionele verzendkosten van toepassing.
Voor meer informatie zie onze Leveringsvoorwaarden.
Deze set bevat kleine onderdelen en is niet geschikt voor kinderen onder de 3 jaar.
Je bent misschien ook geïnteresseerd in
Uw beoordelingswaardering kan niet worden verzonden
Rapporteer reactie
Bent u zeker dat u deze opmerking wil rapporteren?
Melding verzonden
Uw opmerking is ingediend en zal door een beheerder worden behandeld.
Uw opmerking kan niet worden verzonden
Schrijf je product beoordeling
Beoordeling verstuurd
Uw beoordeling is toegevoegd en wordt beschikbaar zodra deze is goedgekeurd.
Uw beoordeling kan niet worden verzonden