Nieuw
PRE-ORDER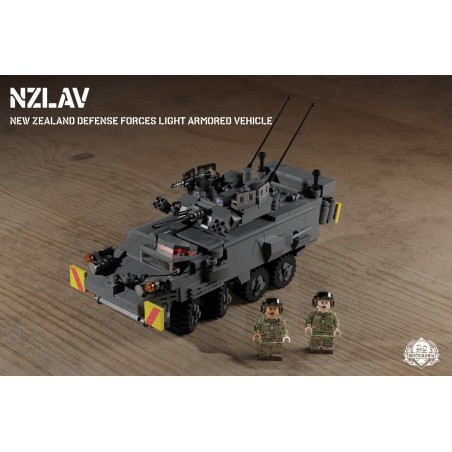  
NZLAV – New Zealand Defense Forces Light Armored Vehicle
Brickmania NZLAV – New Zealand Defense Forces Light Armored Vehicle
PRE ORDER: Versturen vanaf mid Mei!
About the NZLAV – New Zealand Defense Forces Light Armored Vehicle:
The New Zealand Light Armored Vehicle (NZLAV) is an advanced and highly mobile third generation fighting vehicle (LAV III) built by General Dynamics. The NZLAV stands out with its unique eight-wheel design. These wheels run in a four-wheel drive format with a driver option to engage in eight-wheel drive for particularly nasty terrain. To increase mobility, the armored vehicle is outfitted with a central tire inflation system that is user configurable to the specific landscape the NZLAV faces. Even more unique is the type of suspension used—hydropneumatic. Hydropneumatic suspension offers a very smooth ride without the need of mechanical advantages such as springs or levers. In very basic terms, hydropneumatic suspension uses a bag filled with liquid that is attached to a roller arm. As the tire hits bumps, the bag compresses. Because the system is pneumatic, the driver can control the height of the ride, making it variable and customizable to the terrain at hand. To power the vehicle, a Caterpillar 3126HEUI engine is used that pushes 350hp. The NZLAV, to be mobile, does sacrifice on armor—it is in the name. It can protect its crew from small arms fire, but not much bigger. However, crews in the field can add reactive armor to help fend off stronger attacks, though that will negate some of the mobility advantages. Speaking of attack, the NZLAV does carry a very capable main gun that provides significant firepower—the Bushmaster M242 25mm cannon. The gun rides mid-mounted inside of a turret, giving 360 degrees of lethality. Additionally, two MAG-58 7.62mm machine guns are co-axial as well as roof mounted. To round out the array of weapons is two banks of 76mm grenade dischargers to add obscurants (smoke) to the battlefield.
A crew of three—commander, driver, gunner—are needed to operate the vehicles, while an additional seven fully-equipped soldiers can ride in the transport compartment. To enhance its quick reaction capability, the NZLAV and all other LAV III are air transportable by C-130 Hercules cargo planes. For the island nation of New Zealand, a highly mobile vehicle that can be deployable by air, land, and sea optimizes their defensive strategies. The country originally bought 105 NZLAV platforms in 2003. Over the years that number has been reduced to 73. In that period, the New Zealand Military has sold units to other nations in need. Most recently, this included Chile, who purchased 22. The NZLAV is a formidable vehicle that is used similarly to the Stryker in the United States, offering quick strike capabilities.
Additional information about this Brickmania® custom building kit:
This epic Anzac Day release features a crew a 2x custom minifigs and a brand-new custom created M242 Bushmaster chain gun element. All details are custom printed – including a Perfect Caliber™ BrickArms® M240! Play features include a front wheel steering mechanism, opening hatches and ramp, and a functional tow winch cable. Upgrade the NZLAV with up to 4x of the NZ Modern Rifleman with Perfect Caliber™ BrickArms® MARS-L Rifle!
Model Statistics:
Designed by Daniel Siskind
665 LEGO®, Brickmania® & BrickArms® elements
2x custom minifig
Custom printed elements
Full-color printed building instructions
1/35th scale to match other Brickmania kits
Advanced Skill Level (6-8 years building experience recommended)
All Brickmania® model kits are made of new-condition LEGO® bricks. This model comes disassembled and includes complete printed building instructions. This is a limited-edition kit and production may be discontinued at any time.
This is not a LEGO® Product. LEGO and the LEGO minifigure are trademarks of the LEGO Group, which does not sponsor, authorize, or endorse this product. The LEGO Group is not liable for any loss, injury or damage arising from the use or misuse of this product.
Voor deze set zijn additionele verzendkosten van toepassing.
Voor meer informatie zie onze Leveringsvoorwaarden.
Deze set bevat kleine onderdelen en is niet geschikt voor kinderen onder de 3 jaar.
Je bent misschien ook geïnteresseerd in
Uw beoordelingswaardering kan niet worden verzonden
Rapporteer reactie
Bent u zeker dat u deze opmerking wil rapporteren?
Melding verzonden
Uw opmerking is ingediend en zal door een beheerder worden behandeld.
Uw opmerking kan niet worden verzonden
Schrijf je product beoordeling
Beoordeling verstuurd
Uw beoordeling is toegevoegd en wordt beschikbaar zodra deze is goedgekeurd.
Uw beoordeling kan niet worden verzonden