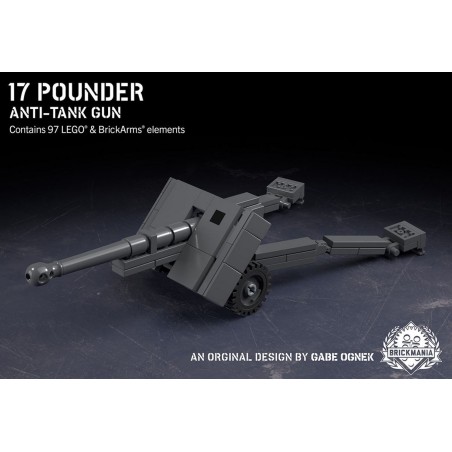  
17 Pounder Anti-Tank Gun
Brickmania 17 Pounder Anti-Tank Gun

About the 17 Pounder – Anti-Tank Gun:
Equipped on a number of British tanks as well as its own carriage, the Ordnance Quick-Firing 17-pounder (17-pdr) outperformed nearly all other Allied armor-piercing guns. Seeing combat for the first time in Tunisia at the end of 1942, the 17-pdr was a major upgrade from its 6-pdr predecessor. By 1945, the 17-pdr was the mainstay anti-tank gun of the British Army and was utilized into the 1950s and beyond by other nations.
Specifications:
Crew: 5-6
Caliber: 3" (76.2mm)
Velocity: 2,900 ft/s (880 m/s) HE, 3,950 ft/s (1,200 m/s) APDS
Max. Range: 10.5 km (6.5 mi)
Additional information about this Brickmania® custom building kit:
Complete with a custom printed gun sight, posable stabilizers, and an elevating/depressing gun, the new 17 Pounder kit is a staple piece of artillery for WWII Europe, North Africa, and more.
Model Statistics:
Designed by Gabe Ognek
97 LEGO® & BrickArms® elements
Additional custom printed element
Full-color printed building instructions
1/35th scale to match other Brickmania kits
Sophomore Skill Level (2-4 years building experience recommended)
All Brickmania® model kits are made of new-condition LEGO® bricks. This model comes disassembled and includes complete printed building instructions. This is a limited-edition kit and production may be discontinued at any time.
This is not a LEGO® Product. LEGO and the LEGO minifigure are trademarks of the LEGO Group, which does not sponsor, authorize or endorse this product. The LEGO Group is not liable for any loss, injury or damage arising from the use or misuse of this product.
For this Set additional shipping costs will apply.
For more information please see our Shipping Conditions.
This set contains small parts and is not intended for childern under 3 years
Customers who bought this product also bought: