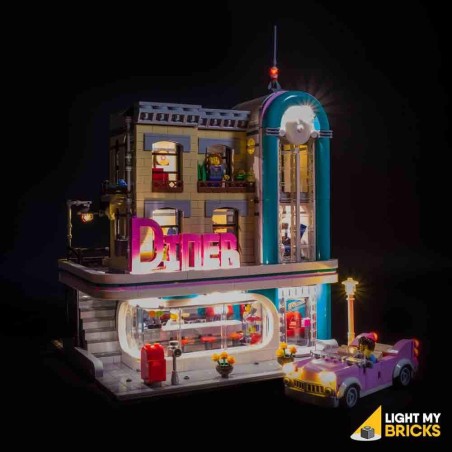  
Light My Bricks - Lighting set suitable for LEGO Downtown Diner 10260
Light up your : Downtown Diner

PLEASE NOTE: This only concerns a lighting set and not the LEGO® set shown.


The LEGO Downtown Diner (10260), is the 13th LEGO Modular Building Series release and is the first set to break away from the old-world European theme, as well as provide detailed faces to LEGO minifigs.

The Downtown Diner showcases a major shift in Modular Building thematic by introducing 1950s American architecture and culture. Jump back in time when things were "groovy", cars were humongous and hair gel was a necessity, not an option.

Representing nostalgic American culture, this colourful set combines a series of fun themes, including the diner, boxing ring and gym, fully decked out music studio and radio station.

Totalling at 2,480 LEGO bricks, the Downtown Diner contains some great lighting opportunities that our design team have latched on and taken creative advantage of!

Our custom, easy to install LEGO light kit contains 32 individual lights to help bring out the best of this dynamic set. Our LEGO LED lights have been added to areas such as the "DINER" sign, internal Diner lights on the bottom floor, flashing effects for the music jukebox to mimic music being played, our signature LEGO street light (lamp post), upstairs floors, individual lighting for the pink Cadillac style car and a flashing light for the radio beacon.



Easy Light
Light My Bricks LEGO® Lighting Kits provide an easy way for LEGO® fans to customize their models using LED lights. With detailed, step-by-step instructions, anyone can light up their LEGO® set.
This kit contains:

    1 x AA Battery Pack (batteries not included)
    3 x Flashing Bit Lights (White)
    6 x Bit Lights (White)
    5 x Connecting Cables - 5cm
    5 x Connecting Cables - 15cm
    2 x Connecting Cables - 30cm
    1 x Connecting Cables - 50cm
    1 x 6-Port Expansion Boards
    2 x 8-Port Expansion Board
    11 x LED Strip Lights (White)
    1 x LEGO® Lamp Posts with LED installed
    4 x Adhesive Squares
    8 x Assorted LEGO® pieces for assembly


Video
Installation Guide
User guide instructions for this kit can be found on the Users Guides section.
Connect Multiple Kits
Do you have multiple Light My Bricks Lighting Kits or wish to light up multiple sets using a single power function? Light My Bricks offers a Multi-Light Kit Connection Kit which makes it easy to connect up to 4 lighting kits together. You can even connect these kits together to create an even larger single lighting circuit!
All Light My Bricks kits are plug and play - no electronics knowledge needed!
Please note: This set is a LED lighting kit only. All LEGO® sets featured in images and videos are sold separately.
This set contains small parts and is not intended for childern under 3 years.
Customers who bought this product also bought: