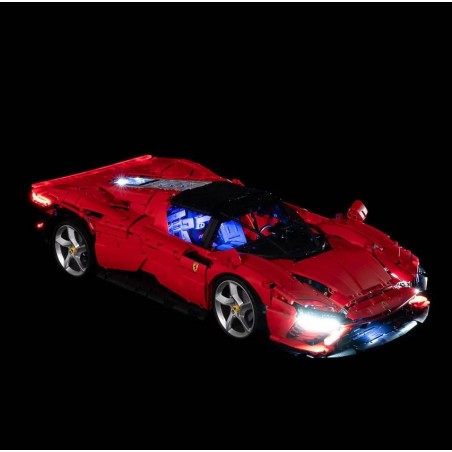  
Light My Bricks - Lighting set suitable for LEGO Ferrari Daytona SP3 - 42143
Light up your : LEGO Ferrari Daytona SP3


PLEASE NOTE: This only concerns a lighting set and not the LEGO® set shown.
The pinnacle of Italian sports precision, luxury and design the LEGO TECHNIC Ferrari Daytona SP3 42143 is a sight to behold for any sports car superfan! Take yours to the next level with Light My Bricks!

An incredible 1:8 scale model, the addition of lights makes the display of the SP3 the centre of attention in any motorsport aficionado's office, games room or clubhouse. This light kit features a tasteful selection of our Bit Lights, to bring attention to and highlight the fine details on offer. Such as a Cool White Bit Light to light up the engine bay, highlighting the superbly designed V12 engine or Red and Blue Bit Lights to emphasise the design of the Daytona's interior.

It's iconic Ferrari front and back - with dazzling White 7cm Light Bars bringing the prancing pony headlights to life via 118 LEDs, while a singular Red 34cm Light Bar leaves the competition in the dust, lighting up the exterior tail with 668 LEDs. These unique components are custom produced for this kit, taking inspiration from the exceedingly high level of design from both LEGO and Ferrari, who combined forces to create this incredible LEGO Technic set! All together the light bars house an enormous 904 individual LEDs between them - making this light kit the ultimate in LEGO light display.
Fan of LEGO vehicles? If so, check out our wide range of LEGO vehicle light kits and bring your collection to life!
Easy Light
Light My Bricks LEGO® Lighting Kits provide an easy way for LEGO® fans to customize their models using LED lights. With detailed, step-by-step instructions, anyone can light up their LEGO® set.
This kit contains:
10 x Bit lights cold white with 30 cm cable
1 x Bit Lights Blue with 30cm cable
1 x Bit Lights Green with 30cm cable
4 x Bit Lights Red with 30cm cable
2 x LED light bar 7 cm (118 white LEDs)
1 x LED light bar 34 cm (668 red LEDs)
1 x 2-port expansion card
1 x 6-port expansion card
1 x 8-port expansion card
2 x 12-port expansion card
6 x adhesive squares / corners to attach
1 x connection cable 15 cm
3 x connection cables 50 cm
1 x USB power cable 30cm (power source not included)
29 x Assorted LEGO® pieces for easy assembly
Video
Installation Guide
User guide instructions for this kit can be found on the Users Guides section.
Connect Multiple Kits
Do you have multiple Light My Bricks Lighting Kits or wish to light up multiple sets using a single power function? Light My Bricks offers a Multi-Light Kit Connection Kit which makes it easy to connect up to 4 lighting kits together. You can even connect these kits together to create an even larger single lighting circuit!
All Light My Bricks kits are plug and play - no electronics knowledge needed!
Please note: This set is a LED lighting kit only. All LEGO® sets featured in images and videos are sold separately.
This set contains small parts and is not intended for childern under 3 years.
Customers who bought this product also bought: