BrickArms Blaster Pack Vector
BrickArms lights the galactic fuse with the Blaster Pack - Revolution!

Includes 17 scifi weaponry any trooper needs to dominate the intergalactic battlefront:
Includes:
• A-280C Blast Rifle
• A295 Blast Rifle
• DC-15LE Blast Rifle
• DC-17 Blast Pistol
• DH-17 Blast Rifle
• DLT-19 Heavy Blast Rifle
• DLT-19D Heavy Blast Rifle
• DLT-19X Heavy Blast Rifle
• DT-12 Blast Pistol
• E-22 with removable magazine
• E-5 Blast Rifle
• Gaffi Stick
• Relby V10 1S
• Relby V10 2S
• SE-44c Blast Pistol
• Shocktrooper Blast Pistol
• Westar-35 Blast Pistol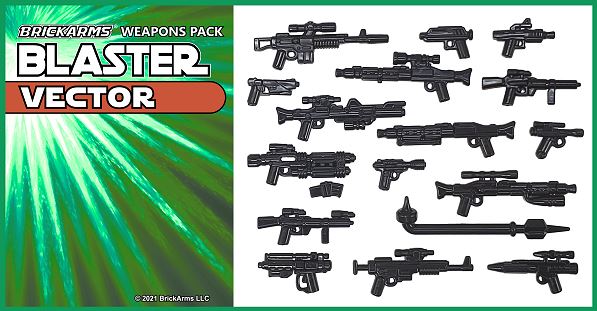 These custom design weapons are made of high quality injection molded ABS plastic and will fit most standard LEGO Minifigures.
You are buying only the Set and not the Minifig and / or other displayed Legos.
This set contains small parts and is not intended for childern under 3 years.