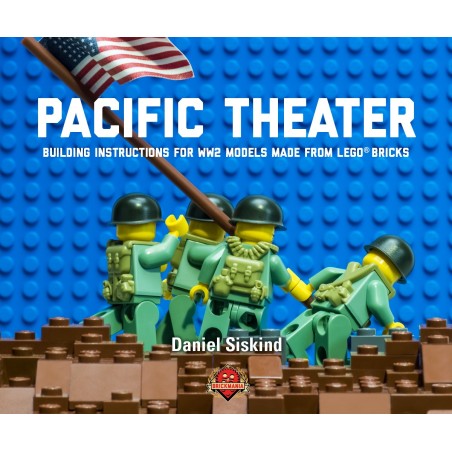  
Pacific Theater - Building Instructions
EXCLUSIVE & LIMITED SUPPLY

Brickmania Pacific Theater - Building Instructions 
Product Description
The Pacific Theater was a major battlefield of World War II, where the Allies combatted the aggressive advances of Imperial Japan on land, at sea, and in the air.  The Japanese assault on Pearl Harbor unleashed the combined fury of North American and South Pacific Allies.  Within these pages you will find some of the most frequently used vehicles of the Pacific Theater, carefully recreated with LEGO® bricks.  Each build includes full-color, step-by-step instructions for building 11 Allied and Imperial Japanese military models from WWII. 
Included in this volume are:
Type 95 "Ha-Go" Light Tank
Type 97 "Chi-Ha" Medium Tank
Type 1 47mm Anti-Tank Gun
Type 92 70mm Battalion Gun
A6M Zero
Coastal Defense Battery
M2A4 Stuart Light Tank
M4A2 Sherman Medium Tank
LVT-4 "Amtrac"
M1A1 75mm Howitzer
P-40 Warhawk
Bonus Extras:
Printed on heavy-weight glossy paper and has a special lay-flat spiral wire binding

Also included is a vinyl sticker sheet with vehicle markings, insignia, and uniforms for 20 figures

Each model includes a parts list to help locate all of the parts needed to build your model

Beautiful full-color photographs throughout the book, filled with ideas for displaying your models.
For this Set additional shipping costs will apply.
For more information please see our Shipping Conditions.
This set contains small parts and is not intended for childern under 3 years
Customers who bought this product also bought: