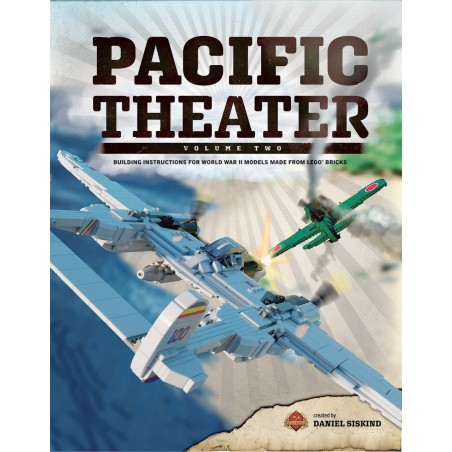  
Pacific Theater - Volume 2 - Building Instructions
Brickmania Pacific Theater - Building Instructions 
The Pacifc Theater in World War II saw a wide variety of combat styles. From massive naval engagements, to island invasions and intense aerial attacks, no tactics were ignored in the quest for absolute victory. From December of 1941 until August of 1945, the Allied forces and the Empire of Japan fought viciously over key territories that would determine the future of the South Pacific.
Inside this book you'll find full-color, step-by-step instructions to build 12 different Japanese and American military models from the Pacific Theater using LEGO® bricks, including:
Japan
Type 92 - 105mm Field Gun
Type 4 Ho-Ro - Self-Propelled Gun
Type 89 - Type 89 Medium Tank 92 1.5 wide black Track Links
Type 94 Te-Ke - Tankette
Nakajima Ki-84 Hayate - Army Type 4 Fighter
Yamato - Japanese Battleship
United States
M1 Light Tractor - US Navy Seabees Bulldozer
M8 Scott - 75mm Howitzer Motor Carriage 84 single wide black Track Links
LVT(A)-4 Amtank - Amphibious Infantry Support 128 1.5 wide dark brown Track Links
F6F-5 Hellcat - Carrier-Based Fighter
P-38L Lightning - Fighter-Bomber
USS Missouri - American Battleship 
Bonus Extras:
Printed on heavy weight glossy paper with a special lay-flat spiral binding

Includes vinyl sticker sheet with vehicle markings and insignia for added realism

Visual and test parts lists to help locate all of the parts needed to build your model

Beautiful full-color photographs throughout provide ideas for displaying your models
For this Set additional shipping costs will apply.
For more information please see our Shipping Conditions.
This set contains small parts and is not intended for childern under 3 years
Customers who bought this product also bought: