PRE-ORDER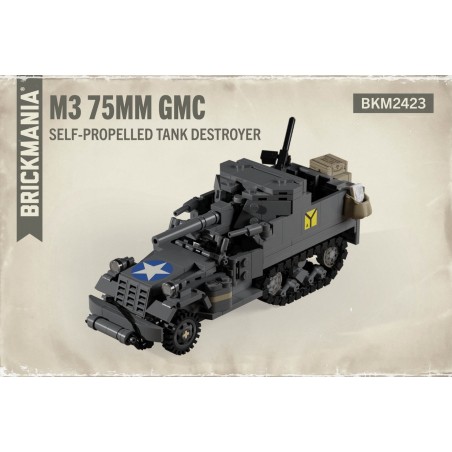  
M3 75mm GMC
 Brickmania M3 75mm GMC – Self-Propelled Tank Destroyer

PRE ORDER: Versturen vanaf mid Juni!
About the M3 75mm GMC – Self-Propelled Tank Destroyer:
The halftrack truck is a ubiquitous design that was found in common use by Allied and Axis armies during World War II. It blended the best aspects of both a truck and tracked vehicle. It maintained the all-terrain capability of a tractor, but the speed and ease of manufacture of a heavy-duty truck. The result is something quite interesting. Originally designed by United States Army to support artillery units, the halftracks found use by cavalry and armored units. These vehicles were themselves lightly armored and armed with Browning M2 .50 caliber machine guns and M1919 .30 caliber machine guns. The halftracks proved decisive in many engagements in North Africa, Italy, and the European front. While many were used as troop transports, a few were transformed into something with a bit more punch.
The M3 Gun Motor Carriage (GMC) was built in response to the United States Army's need for a self-propelled anti-tank weapon to go toe-to-toe with German tanks and offer greater lethality to mobile infantry units. The halftrack was eventually eclipsed by dedicated tank destroyers—such as the M10 and M18—but early in the war, especially in the North African campaign, the GMC was prominent and deadly. For the main gun, the M1897A4 105mm cannon was modified and placed in the bed of the halftrack. A shield surrounded the gun to offer protection for the gunner's crew, but it was sometimes removed to save weight and increase speed. Special ammunition was built to better service the gun in its tank hunting role. The M61 ammunition was armor piercing up to three inches at 1,000 yards. This proved useful against early war German Tanks, but by the end of 1943, the gun was ineffective. Nearly 59 rounds were stored in the truck along with a crew of five for it to operate effectively. Over 2,092 halftracks were converted to the GMC variant and saw service around the world by U.S. and Allied nations. As the German Tanks grew and stature, many of the tank-hunting halftracks were shipped off to the Pacific theater and served in the campaigns against Japan where they were extremely effective against the thin-skinned Japanese tanks. However, by the end of the war, many were retired along with other tank destroyers as the United States shifted to the Main Battle Tank ideology.
Additional information about this Brickmania® custom building kit:
This epic tribute to the 601st TD Battalion from North Africa circa 1943 features all printed details and 1x custom minifig. Play features include a custom printed crate, jerry cans, opening doors, posable main gun, space for additional crew, and smooth rolling V3 Track Links™. Outfit your tank destroyer with the all-new Tank Destroyer Crewman – add up to 3x with your order!
Model Statistics:
Designed by John Canepa
484 LEGO®, Brickmania® & BrickArms® elements
1x custom minifig
Custom printed elements
Full-color printed building instructions
1/35th scale to match other Brickmania kits
Intermediate Skill Level (4-6 years building experience recommended)
All Brickmania® model kits are made of new-condition LEGO® bricks. This model comes disassembled and includes complete printed building instructions. This is a limited-edition kit and production may be discontinued at any time.
This is not a LEGO® Product. LEGO and the LEGO minifigure are trademarks of the LEGO Group, which does not sponsor, authorize, or endorse this product. The LEGO Group is not liable for any loss, injury or damage arising from the use or misuse of this product.
Voor deze set zijn additionele verzendkosten van toepassing.
Voor meer informatie zie onze Leveringsvoorwaarden.
Deze set bevat kleine onderdelen en is niet geschikt voor kinderen onder de 3 jaar.
Klanten die dit product aangeschaft hebben kochten ook...