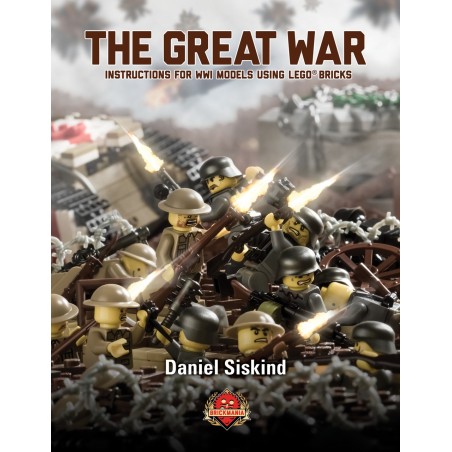  
The Great War - Building Instructions
EXCLUSIVE & LIMITED SUPPLY

Brickmania The Great War - Building Instructions
Product Description
WWI, also known as the Great War or the War to End All Wars, was a global war originating in Europe that lasted from July 28, 1914 to November 11, 1918. More than 70 million military personnel, including 60 million Europeans, were mobilized in one of the largest wars in history.
The war drew in all of the world's economic great powers assembled in two opposing sides: the Allies versus the Central Powers of Germany and Austria-Hungary. The trigger for the war was the assassination of Archduke Franz Ferdinand of Austria, heir to the throne of Austria-Hungary, by Yugoslav national Gavrilo Princip in Sarajevo on June 28, 1914. WWI ended with the Allied victory and fall of the German, Russian, Ottoman, and Austro-Hungarian empires.
Great War Instruction BookInstructions included in this volume are:
QF 13 Pounder
Spandau MG 08
75mm Mle 1897 "French 75"
7.7cm Feldkanone 96 neuer Art
Ordnance QF 18 Pounder Field Gun
Fokker Dr.1 – Red Baron Edition
Renault FT - French Light Tank
Rolls-Royce Armored Car (Tan)
Sopwith Camel
Mark V British Heavy Tank
Big Bertha
A7V German Heavy Tank
Additional instructions for:
2x Modular Trench sections
3x shell craters
Vickers HMG
For this Set additional shipping costs will apply.
For more information please see our Shipping Conditions.
This set contains small parts and is not intended for childern under 3 years
Your review appreciation cannot be sent
Report comment
Are you sure that you want to report this comment?
Report sent
Your report has been submitted and will be considered by a moderator.
Your report cannot be sent
Customers who bought this product also bought:
Write your product review
Review sent
Your comment has been submitted and will be available once approved by a moderator.
Your review cannot be sent