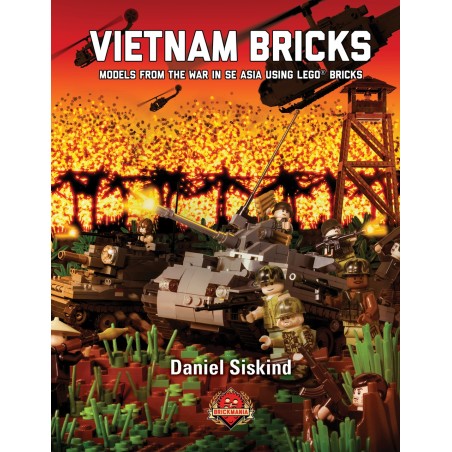  
Vietnam Bricks - Building Instructions
Brickmania Vietnam Bricks - Building Instructions
Product Description
The Vietnam War, also known as the Second Indochina War, was a war that took place in Vietnam, Laos, and Cambodia from November 1955 to the fall of Saigon in April of 1975. It was officially fought between North Vietnam and the government of South Vietnam. The North Vietnamese army was backed by the Soviet Union, China, and other communist allies, and the South Vietnamese Army was backed by the United States, South Korea, Australia, Thailand, and other anti-communist allies. 
A great amount of opposition to the United States involvement in the war grew over the years. This ultimately lead to American forces pulling out of the war between 1973-1975. The North Vietnamese began a string of offensive attacks. During April 1975, Saigon fell and was taken by the North Vietnamese army. The Vietnam war is often referenced as more of a proxy-war, due to each side of Vietnam receiving support from opposing countries.
Vietnam Bricks Instructions
Instructions included in this volume are:
MUTT M825 Weapon Carrier

M35A2 Gun Truck

M35A2 Truck + Canvas Cover

M332 Ammo Trailer

M102 Howitzer

M1A1 155mm Howitzer

G527 Water Tailer

M113 – ACAV

M41 Walker Bulldog

M42 Duster

M551 Sheridan

UH-1D Iroquois

AH-1G Cobra Gunship

PBR 31 MkII – Patrol Boat, River
Environment
Bonus Extras:
Printed on heavy-weight glossy paper with a special lay-flat spiral binding

Includes a vinyl sticker sheet with vehicle markings, insignia, and uniforms for 18 figures

Also includes canvas cover for M35A2 Truck, and fabric flag for PBR 31 MkII

Each model includes a parts list to help locate all of the parts needed to build your model

Beautiful full-color photographs throughout the book, filled with ideas for displaying your models
For this Set additional shipping costs will apply.
For more information please see our Shipping Conditions.
This set contains small parts and is not intended for childern under 3 years
Customers who bought this product also bought: