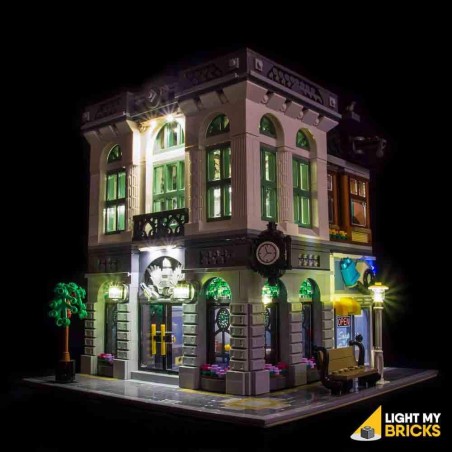  
Light My Bricks - Lighting set suitable for LEGO Brick Bank 10251
Light up your : Brick Bank


PLEASE NOTE: This only concerns a lighting set and not the LEGO® set shown.
The LEGO Brick Bank (10251) is the 11th LEGO Modular Building release and represents the financial services aspect of the building theme series.

Released in 2016, the Brick Bank is made up of 2,380 pieces, and like the Palace Cinema, is a two-storey building - making it shorter than some of its counterparts.

But what it lacks in height, Brick Bank makes up in features. There are lots of little hidden details within the Brick Bank, including coin counting machine, lockable bank vault and an adjacent laundromat where money literally gets laundered!

Every town needs a bank and banks need lights to properly operate! That's why Light My Bricks have developed a LEGO light kit designed specifically to complement this Modular Building set. Our custom LEGO light up kit contains 21 individual lights to help bring out all the great features and details of this charming set.

Our LED light features include our signature LEGO street light (lamp post), lights for the bank's security alarm system, flashing external signage, down lights for exterior building facades and internal room lighting to create a realistic effect.

Our easy to install, custom LEGO lighting kit will certainly bring an extra level of detail and charm to this adorable set. Bring your LEGO Brick Bank model to life with our Light My Bricks light kit.
Easy Light
Light My Bricks LEGO® Lighting Kits provide an easy way for LEGO® fans to customize their models using LED lights. With detailed, step-by-step instructions, anyone can light up their LEGO® set.
This kit contains:
    1 x USB Power Cable
    8 x Bit Lights (White)
    1 x Connecting Cable - 5cm
    5 x Connecting Cables - 15cm
    1 x Connecting Cable - 30cm
    2 x 6-Port Expansion Boards
    1 x LEGO® Lamp Post With LED Installed
    6 x LED Strip Lights (White)
    6 x Adhesive Squares
    7 x Assorted LEGO® pieces for assembly
Video
Installation Guide
User guide instructions for this kit can be found on the Users Guides section.
Connect Multiple Kits
Do you have multiple Light My Bricks Lighting Kits or wish to light up multiple sets using a single power function? Light My Bricks offers a Multi-Light Kit Connection Kit which makes it easy to connect up to 4 lighting kits together. You can even connect these kits together to create an even larger single lighting circuit!
All Light My Bricks kits are plug and play - no electronics knowledge needed!
Please note: This set is a LED lighting kit only. All LEGO® sets featured in images and videos are sold separately.
This set contains small parts and is not intended for childern under 3 years.
Customers who bought this product also bought: