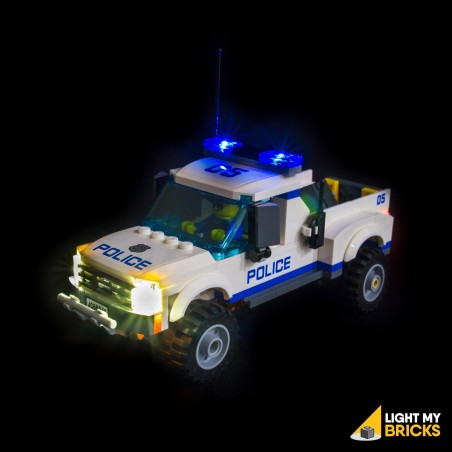  
Light My Bricks - Lighting set for Starter Kit - Police Car (6 lights)
PLEASE NOTE: This only concerns a lighting set and not the LEGO ® set shown.
Got a LEGO® police car, ambulance or firetruck that you want to add a little flair on?
Our Starter Kit range is a great way to introduce yourself to the world of LEGO® lighting.
This Police Car Light Starter Kit is perfect for a small LEGO® car or truck set. Included are all the components you need to illuminate a vehicle's headlights and flashing lights for sirens! Our flat battery packs are compact and can easily be concealed inside many LEGO® sets.
Easy Light
Light My Bricks LEGO® Lighting Kits provide an easy way for LEGO® fans to customize their models using LED lights. With detailed, step-by-step instructions, anyone can light up their LEGO® set.
This kit contains:
    1 x Flat Battery Pack
    2 x CR2032 Batteries
    4 x White 15cm Bit Lights
    2 x Flashing White 15cm Bit Lights
    1 x 6-Port Expansion Board
Video
Connect Multiple Kits
Do you have multiple Light My Bricks Lighting Kits or wish to light up multiple sets using a single power function? Light My Bricks offers a Multi-Light Kit Connection Kit which makes it easy to connect up to 4 lighting kits together. You can even connect these kits together to create an even larger single lighting circuit!
All Light My Bricks kits are plug and play - no electronics knowledge needed!
Please note: This set is a LED lighting kit only. All LEGO® sets featured in images and videos are sold separately.
This set contains small parts and is not intended for childern under 3 years.
Customers who bought this product also bought: