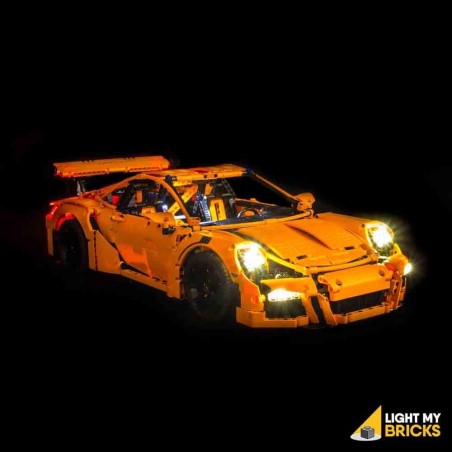  
Light My Bricks - Lighting set suitable for LEGO Porsche 911 GT3 RS 42056
Light up your : LEGO Porsche 911 GT3 RS 

PLEASE NOTE: This only concerns a lighting set and not the LEGO® set shown.
The LEGO® Technic replica of the iconic Porsche 911 GT3 RS is now available as a Light My Bricks LEGO® Lighting Kit!
With a neatly concealed battery pack, this model is lit up with 16 individual LED lights, making it an attractive display piece for any LEGO® car enthusiast wanting to add an extra bit of realism.
Easy Light
Light My Bricks LEGO® Lighting Kits provide an easy way for LEGO® fans to customize their models using LED lights. With detailed, step-by-step instructions, anyone can light up their LEGO® set.
This kit contains:
1 x AA Battery Pack (batteries not included)
16 x Bit Lights (White)
1 x 12-Port Expansion Board
1 x 8-Port Expansion Board
1 x 6-Port Expansion Board
2 x Connecting Cables - 30 cm
1 x Connecting Cable - 50 cm
1 x LED Strip Lights (White)
6 x Adhesive Squares
Video
Installation Guide
User guide instructions for this kit can be found on the Users Guides section.
Connect Multiple Kits
Do you have multiple Light My Bricks Lighting Kits or wish to light up multiple sets using a single power function? Light My Bricks offers a Multi-Light Kit Connection Kit which makes it easy to connect up to 4 lighting kits together. You can even connect these kits together to create an even larger single lighting circuit!
All Light My Bricks kits are plug and play - no electronics knowledge needed!
Please note: This set is a LED lighting kit only. All LEGO® sets featured in images and videos are sold separately.
This set contains small parts and is not intended for childern under 3 years.
Customers who bought this product also bought: