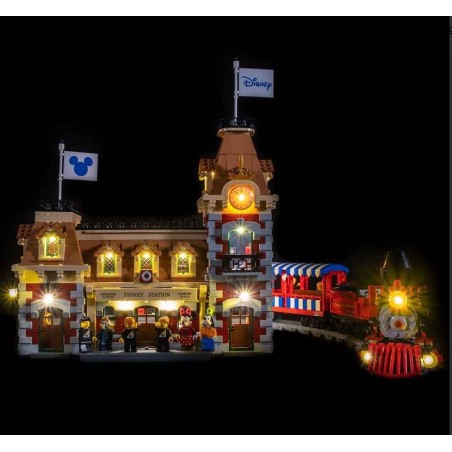  
Light My Bricks - Lighting set suitable for LEGO Disney Train Station 71044
Light up your : LEGO Disney Train Station


PLEASE NOTE: This only concerns a lighting set and not the LEGO® set shown.
Bring the magical world of Disney to your home with the LEGO® Disney Train Station set. Modelled after the theme park's steam locomotive, the Disney Train set will add a smile to faces, both young and old.

With 40 individual lights, Light My Bricks have gone to great lengths to recreate the Disney magic with this adorable set. With a mixture of standard and micro LEDs, this set will make an attractive centrepiece to your LEGO collection.

This set also comes with our LEGO Powered Up compatible cable, enabling you to control the lights on your LEGO Disney Train set using your smartphone and LEGO Powered Up app or the LEGO powered Up controller.
Important Note

This lighting kit is powered by a USB Power Bank or USB Power Adaptor (to connect to a mains outlet), which is NOT included in this kit. If you do not have a USB Power Bank, you can purchase them from our Powering section.
Easy Light
Light My Bricks LEGO® Lighting Kits provide an easy way for LEGO® fans to customize their models using LED lights. With detailed, step-by-step instructions, anyone can light up their LEGO® set.
This kit contains:
3 x Bit Lights White 30 cm
12 x Bit Lights White 15 cm
2 x Warm White 30 cm Large Bit Lights
3 x Micro Bit Lights White 15 cm
8 x Micro Bit Lights White 30 cm
5 x LED Strip Light - White
1 x Multi Colour Light String
4 x 6-Port Expansion Board
1 x 12-Port Expansion Board
3 x Micro Expansion Board 4-Port
4 x Connecting Cables 5 cm
4 x Connecting Cables 15 cm
2 x Connecting Cables 30 cm
1 x Connecting Cables 50 cm
1 x Power Functions Cable
1 x LMB Powerd Up Cable
14 x Ahdesive Squares
10 x Assorted LEGO® pieces for easy assembly
Video
Installation Guide
User guide instructions for this kit can be found on the Users Guides section.
Connect Multiple Kits
Do you have multiple Light My Bricks Lighting Kits or wish to light up multiple sets using a single power function? Light My Bricks offers a Multi-Light Kit Connection Kit which makes it easy to connect up to 4 lighting kits together. You can even connect these kits together to create an even larger single lighting circuit!
All Light My Bricks kits are plug and play - no electronics knowledge needed!
Please note: This set is a LED lighting kit only. All LEGO® sets featured in images and videos are sold separately.
This set contains small parts and is not intended for childern under 3 years.
Customers who bought this product also bought: