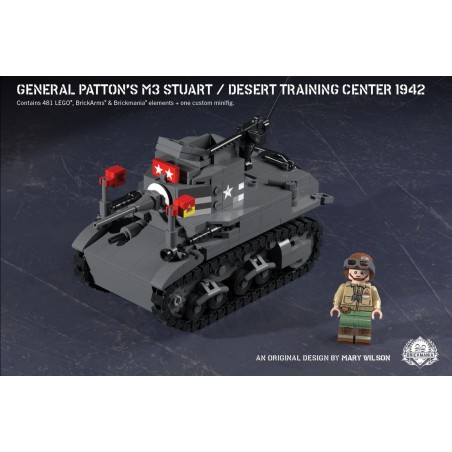  
General Patton's M3 Stuart
Brickmania General Patton's M3 Stuart – Desert Training Center 1942

About General Patton's M3 Stuart - Desert Training Center 1942
The M3 Stuart was the United States' first entry of a light tank. Initial production runs were sent straight to the British as part of the lend-lease program and immediately saw action in North Africa. After initial combat reports, updates were made and the M3A1 began production in May of 1942. These updates included a gyro stabilizer for the 37mm main gun and a power traverse function for the turret. A basket was also added to the turret to accommodate this new power traverse feature.
Following Japan's attack of Pearl Harbor, the United States saw itself squarely involved in a global conflict. Following a long stay in the White House, British Prime Minister Winston Churchill convinced Roosevelt and American military leadership to adopt a Germany-first policy that looked to knock out the Third Reich as quickly as possible. American forces would first see action aiding the British in North Africa, but prior to deployment, American troops were sent to the Desert Training facility in California to prepare for desert warfare. General Patton, who would take command of American troops in the region, rode atop an M3 Stuart as he supervised the training. This particular Stuart was embellished with Patton's rank and markings, so everyone knew who was watching.

Specifications:
Main armament: 37 mm Gun
Secondary armament: 3 × .30 caliber Browning M1919A4 machine guns
Engine: Twin Cadillac Series-42 220 hp
Fuel capacity: 89 U.S. gallons (340 liters; 74 imperial gallons)
Operational range: 100 mi
Speed: 36 mph (58 km/h) on road

Additional information about this Brickmania® custom building kit:
Modeled after training tanks used at the Desert Training Center this model includes an accurate camo scheme, custom printed markings and details (no stickers), AA mounted BrickArms® M1919, 3x BrickArms 30 barrels, and a custom Patton Tanker minifig. Play features include opening roof and rear hatches, a fully rotating turret, elevating and depressing main gun, and, of course, custom Brickmania® Track Links™ 
Model Statistics:
Designed by Mary Wilson
481 LEGO® & BrickArms® elements
1x custom minifigs designed by Landon Reimer
14 Additional custom printed elements
Full-color printed building instructions
1/35th scale to match other Brickmania kits
Intermediate Skill Level (4-6 years building experience recommended)
All Brickmania® model kits are made of new-condition LEGO® bricks. This model comes disassembled and includes complete printed building instructions. This is a limited-edition kit and production may be discontinued at any time.
This is not a LEGO® Product. LEGO and the LEGO minifigure are trademarks of the LEGO Group, which does not sponsor, authorize or endorse this product. The LEGO Group is not liable for any loss, injury or damage arising from the use or misuse of this product.
Voor deze set zijn additionele verzendkosten van toepassing.

Voor meer informatie zie onze Leveringsvoorwaarden.
Deze set bevat kleine onderdelen en is niet geschikt voor kinderen onder de 3 jaar.
Je bent misschien ook geïnteresseerd in
Uw beoordelingswaardering kan niet worden verzonden
Rapporteer reactie
Bent u zeker dat u deze opmerking wil rapporteren?
Melding verzonden
Uw opmerking is ingediend en zal door een beheerder worden behandeld.
Uw opmerking kan niet worden verzonden
Klanten die dit product aangeschaft hebben kochten ook...
Schrijf je product beoordeling
Beoordeling verstuurd
Uw beoordeling is toegevoegd en wordt beschikbaar zodra deze is goedgekeurd.
Uw beoordeling kan niet worden verzonden