PRE-ORDER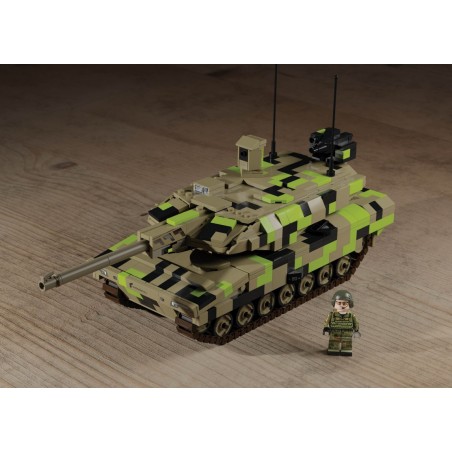  
Panther KF51
Brickmania Panther KF51 – Next Gen German MBT
PRE ORDER: Versturen vanaf mid July!
About the Panther KF51 – Next Gen German MBT:
The main battle tank (MBT) ideology was born out of the dust of World War II and is a centerpiece to modern day armor strategy. This ideology suggests that one tank can fill multiple roles, whereas in World War II, many models of tanks existed that filled certain niches, i.e., light, medium, and heavy tank classifications. Through the Cold War, the United States and West Germany worked together to build a versatile machine that could keep up with their Soviet counterparts. Out of that program came the American Abrams and German Leopard tanks, two of the most versatile and recognizable designs of the last forty years. However, they have aged. Only so much modernization can be done before a new design altogether needs to be made. In this instance, the Germans have struck first with the KF51 "Panther."
Famed German arms manufacturer Rheinmetall unveiled the tank of the future at Eurosatory 2022. The futuristic tank impressed onlookers while Rheinmetall's engineers exclaimed that "the KF51 Panther is destined to be a game changer on the battlefields of the future." To bring the tank up to date compared to its older brethren, the Panther integrates new technology that enables the tank to collect and disseminate information quickly. The tank's updated array of sensors and communication systems allows combined forces to operate collaboratively in hostile environments where conditions rapidly change. The quick transmission of information is key for the modern battlefield, especially as hostilities increase in "new" hot zones. While the advancement of integrated systems is tremendous, a tank isn't lethal without its main gun. For this, Rheinmetall went with a prodigious 130mm smoothbore cannon. Based on Rheinmetall's Future Gun System (FGS), the gun consists of a fully automatic ammunition handling system with twenty rounds loaded in two separate magazines. With this system, two rounds can be fired in less than three seconds, giving great lethality over older MBTs. With the larger gun, Rheinmetall projects a greater than fifty percent effectiveness—even at significantly longer ranges—when compared to older 120mm guns, such as the ones used on the Abrams and Leopard. Additionally, a .50 caliber machine gun is mounted coaxially on the right side. The Tank also has the capability to have a remotely controlled weapons station mounted to the turret for proximity and drone defense. Rounding out the Panther's capability, a weapons station with four ready-to-fire HERO 120 loitering munitions stands at the ready furthering the tank's tactical capability.
The tank uses the latest in active, reactive, and passive protection technologies to keep its crew of three to four safe from all directions. At 59 tons, the Panther operates at a significantly lighter weight than the Leopard, giving it greater speed and mobility. Powered by 1,475 hp V-12 diesel engine, the tank can reach speeds of nearly 45mph. While the KF51 was privately developed, Rheinmetall looks to export the model to nations using the aging Leopard line of tanks. Recently, Rheinmetall is in talks to commit the tank for use by the Ukrainian Army in its fight against Russia.
Additional information about this Brickmania® custom building kit:
This massive build features all printed details, custom created barrel elements, brick-built camo, and 1x custom minifig as well as the option to add 1x of the latest Modern German Rifleman minifigs. Play features include an elevating and depressing main gun, working suspension, rocket pods, remote weapons station, rotating turret, opening hatches, and smooth rolling V3 Brickmania Track Links™.
Model Statistics:
Designed by Daniel Siskind
1342 LEGO & Brickmania® elements
1x custom minifig
Custom printed elements
Full-color printed building instructions
1/35th scale to match other Brickmania kits
Advanced Skill Level (6-8 years building experience recommended)
All Brickmania® model kits are made of new-condition LEGO® bricks. This model comes disassembled and includes complete printed building instructions. This is a limited-edition kit and production may be discontinued at any time.
This is not a LEGO® Product. LEGO and the LEGO minifigure are trademarks of the LEGO Group, which does not sponsor, authorize, or endorse this product. The LEGO Group is not liable for any loss, injury or damage arising from the use or misuse of this product.
Voor deze set zijn additionele verzendkosten van toepassing.
Voor meer informatie zie onze Leveringsvoorwaarden.
Deze set bevat kleine onderdelen en is niet geschikt voor kinderen onder de 3 jaar.
Uw beoordelingswaardering kan niet worden verzonden
Rapporteer reactie
Bent u zeker dat u deze opmerking wil rapporteren?
Melding verzonden
Uw opmerking is ingediend en zal door een beheerder worden behandeld.
Uw opmerking kan niet worden verzonden
Klanten die dit product aangeschaft hebben kochten ook...
Schrijf je product beoordeling
Beoordeling verstuurd
Uw beoordeling is toegevoegd en wordt beschikbaar zodra deze is goedgekeurd.
Uw beoordeling kan niet worden verzonden