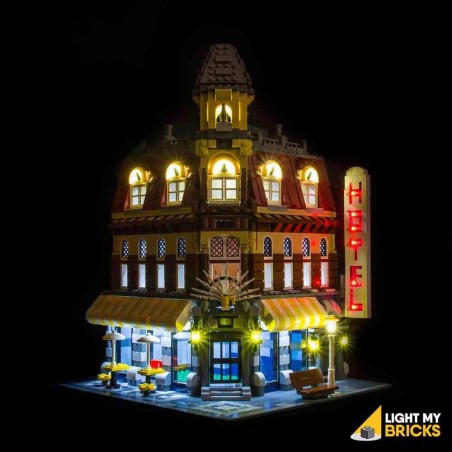  
Light My Bricks - Lighting set suitable for LEGO Cafe Corner 10182
Light up your : Cafe Corner


PLEASE NOTE: This only concerns a lighting set and not the LEGO® set shown.


The LEGO Corner Cafe (10182) is the very first release in the LEGO Modular Building Series and is responsible for starting a town building craze among AFOL (Adult Fans Of LEGO) community.

Launched in 2007, Cafe Corner is a take on a European style cafe/hotel building. With a brick count of 2056 pieces, this eye-catching building has kick started what has become a huge LEGO collector's hit.

Built upon three-storeys on a 32x32 base plate, the level of detail and advanced build techniques from this Creator Expert line has something for everyone.

The Cafe Corner exudes realistic European influences, and Light My Bricks have created a LEGO light kit that helps bring out such details with a tasteful arrangement of LED lights that accentuate its old-world charm.

Our custom LEGO light up kit is the perfect pairing to this magnificent building. Our easy to install light kit contains 33 individual LED lights designed specifically for LEGO. Lighting features include our signature LEGO street lights (lamp post), illumination of the exterior "HOTEL" sign, internal light on all floors, and on street lighting and facades.

If you are a Modular Building Series collector, or just happen to be lucky enough to own this seminal LEGO set, our light kit will help bring your Cafe Corner to life and add an extra level of detail on this already adorable set.
Easy Light
Light My Bricks LEGO® Lighting Kits provide an easy way for LEGO® fans to customize their models using LED lights. With detailed, step-by-step instructions, anyone can light up their LEGO® set.
This kit contains:
    1 x AA Battery Pack (batteries not included)
    16 x Bit Lights (White)
    8 x LED Strip Lights (White)
    2 x Connecting Cables - 5cm
    7 x Connecting Cables - 15cm
    1 x Connecting Cable - 30cm
    3 x 8-Port Expansion Boards
    1 x LEGO® Lamp Post With LED Installed
    14 x Adhesive Squares
    5 x Assorted LEGO® pieces for assembly
Video
Installation Guide
User guide instructions for this kit can be found on the Users Guides section.
Connect Multiple Kits
Do you have multiple Light My Bricks Lighting Kits or wish to light up multiple sets using a single power function? Light My Bricks offers a Multi-Light Kit Connection Kit which makes it easy to connect up to 4 lighting kits together. You can even connect these kits together to create an even larger single lighting circuit!
All Light My Bricks kits are plug and play - no electronics knowledge needed!
Please note: This set is a LED lighting kit only. All LEGO® sets featured in images and videos are sold separately.
This set contains small parts and is not intended for childern under 3 years.
Customers who bought this product also bought: