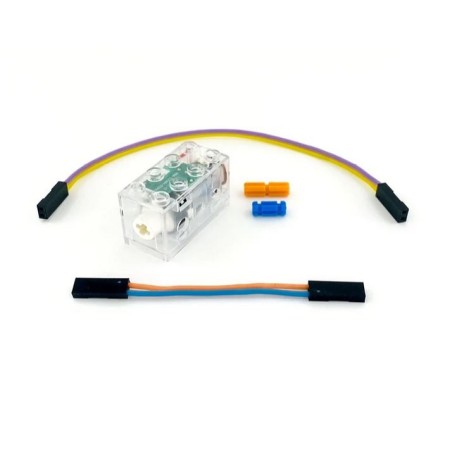  
Circuit Cubes Cubit Motor Cube
Power your Bricks - Cubit Motor Cube

Circuit Cubes Cubit Motor Cube
This mighty little motor actually rotates at more than 1,000 RPM (rotations per minute), but the tiny gears attached to the motor shaft reduce the rotations to about 75 RPM. This ensures maximum torque to turn the wheels or gears of your projects.
The Geared Motor Cube is just one part of a circuit. Add a battery to power your creations, an LED to light them up, and a switch to take control!
- Fits your bricks! Works with all LEGO® & MegaBloks®-type construction bricks
- Seamless circuit connectivity (no soldering)
- Safety-tested & approved for ages 8+
- Created by STEM teachers, tested by kids
What are Circuit Cubes?
MAKE 'EM MOVE! Circuit Cubes Bluetooth App brings controlled motion to your builds. Make your creations move and perform simple tasks with the FREE smartphone app.
POWER YOUR BRICKS: Bring your toys to life with Circuit Cubes, the electronic building blocks that add power, motion, and light to your creations. Designed by STEM teachers, Circuit Cubes can turn a light on, power a motor, or make wheels spin. Circuit Cubes teach kids the basics of mechanical engineering and circuits as they engage in unprescribed and creative play
ENDLESS FUN: Circuit Cubeds electronic building blocks provide hours of fun and creativity! Build and power endless projects with Circuit Cubes, a pile of bricks and your limitless imagination. Snap together Circuit Cubes, building bricks, and other included materials to make your own one of kind creation!
EXCELLENT FOR BEGINNERS: Young scientists, engineers, and inventors will love exploring and creating with Circuit Cubes. Everything you need for effortless assembly. Circuit Cubes inspire STEM/STEAM learning through play.
THINK OUTSIDE THE BOX: Circuit Cubes' award-winning kits enable kids (and adults) to add power, light, and motion to their favorite brick projects, as they develop problem-solving skills through creative, endless play
All Circuit Cubes are plug and play - no electronics knowledge needed!
IMPORTANT SAFETY INFORMATION Handle Circuit Cubes with care. They contain sensitive electronic components, including batteries, and can be damaged or cause injury if dropped, burned, punctured, crushed, disassembled, or if exposed to excessive heat or liquids. Do not use damaged Circuit Cubes. BATTERIES Do not attempt to replace the batteries yourself. You may damage the batteries, which can overheat and cause injury.
Customers who bought this product also bought: