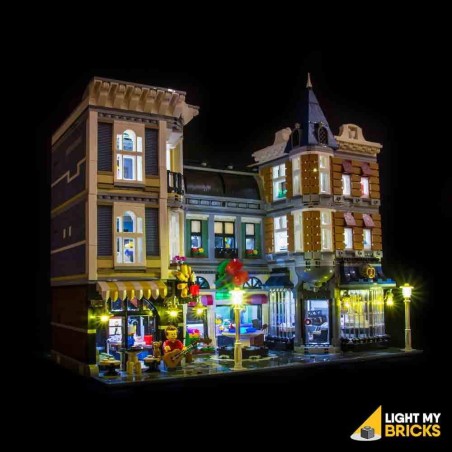  
Light My Bricks - Lighting set suitable for LEGO Assembly Square 10255
Light up your : LEGO Assembly Square

PLEASE NOTE: This only concerns a lighting set and not the LEGO® set shown.
The LEGO Assembly Square (10255) marks the 10th Anniversary of the ever-popular LEGO Modular Building Series. Spanning over 48 LEGO studs in width and at 4,002 pieces, Assembly Square is the widest and largest modular ever released!

To commemorate this LEGO building milestone, we've released our Light My Bricks LEGO light kit packed full of lighting features that will be sure to delight and surprise collectors and fan's alike.

We have gone to great lengths to ensure all the details, whether big or small have been captured with this light up LEGO kit. The buzzing sidewalk of Assembly Square features charming buildings such as a cafe, florist and bakery. All these have been illuminated with our LEGO compatible LED lights to bring out the vibrant and dynamic features of this LEGO set.

On top of LEGO street lights (using our signature Lamp Post light), we've ensured other unique features get the Light My Bricks lighting treatment! Some of the great lighting effects added include a water fountain made to look like running water, flaming bbq grill with realistic fire effects and a whole lot more!

Turn your Assembly Square into a vibrant community hub by adding our custom fully-functional LEGO lights and watch this charming set come to life with lights.
Easy Light
Light My Bricks LEGO® Lighting Kits provide an easy way for LEGO® fans to customize their models using LED lights. With detailed, step-by-step instructions, anyone can light up their LEGO® set.
This kit contains:
    1 x USB Power Cable
    8 x Bit Lights (White)
    1 x Bit Light (Blue)
    1 x Connecting Cables - 5cm
    6 x Connecting Cables - 15cm
    4 x Connecting Cables - 30cm
    2 x 6-Port Expansion Boards
    1 x 8-Port Expansion Board
    8 x LED Strip Lights (White)
    2 x LEGO® Lamp Posts with LED installed
    1 x Multi-Effects Board
    8 x Adhesive Squares
    8 x Assorted LEGO® pieces for assembly
Video
Installation Guide
User guide instructions for this kit can be found on the Users Guides section.
Connect Multiple Kits
Do you have multiple Light My Bricks Lighting Kits or wish to light up multiple sets using a single power function? Light My Bricks offers a Multi-Light Kit Connection Kit which makes it easy to connect up to 4 lighting kits together. You can even connect these kits together to create an even larger single lighting circuit!
All Light My Bricks kits are plug and play - no electronics knowledge needed!
Please note: This set is a LED lighting kit only. All LEGO® sets featured in images and videos are sold separately.
This set contains small parts and is not intended for childern under 3 years.
Customers who bought this product also bought: